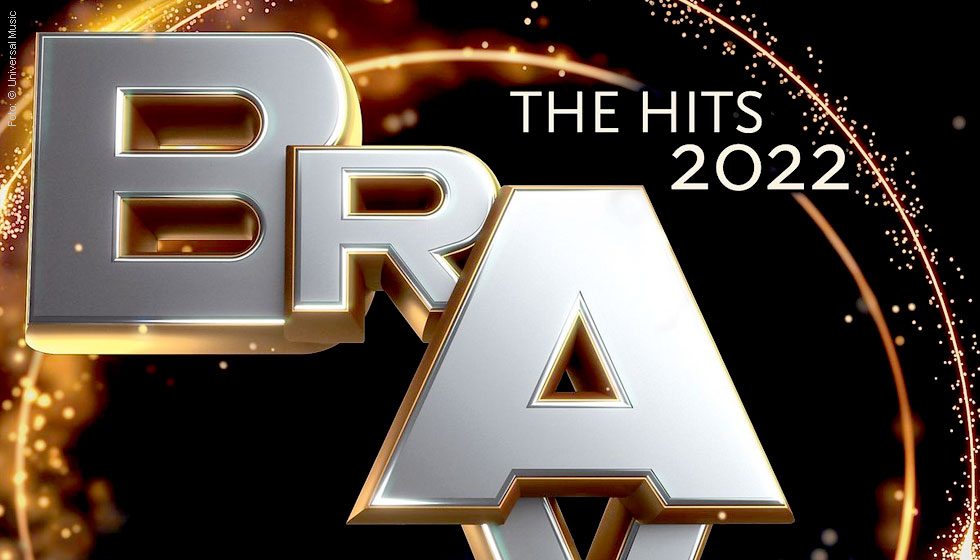 Das Beste zum Schluss
Es geht stramm auf Weihnachten zu und alle Fans der neuesten Hits wissen, was das heißt: Es wird Zeit für »Bravo The Hits 2022«, den großen Rundumschlag mit allen Songs, an denen man in diesem Jahr nicht vorbeigekommen ist.

Alle sind dabei, von Sam Smith und Ed Sheeran, über Nina Chuba und Domiziana, bis hin zu Felix Jaehn und Lil Nas X. Wie gewohnt bietet »Bravo The Hits 2022« das volle Programm und den perfekten Überblick über das ablaufende Pop-Jahr.
Bravo The Hits 2022
2 CDs
CD (Compact Disc)
Herkömmliche CD, die mit allen CD-Playern und Computerlaufwerken, aber auch mit den meisten SACD- oder Multiplayern abspielbar ist.
Gesamtverkaufsrang: 11124
Verkaufsrang in CDs: 4790
Bevor das Jahr 2022 verabschiedet wird, die Tage kürzer werden und die Kälte Einzug hält, stehen noch einmal völlig unverfroren die größten Hits und aktuelle Chartstürmer bereit: "BRAVO The Hits 2022" – die musikalische Primetime beginnt!

Wenn Miksu / Macloud & t-low "Sehnsucht" nach dem Sommer verspüren und James Hype mit Miggy Dela Rosa seinen "Ferrari" vorfährt, kann dies nur eins bedeuten: Die "BRAVO The Hits 2022" steht in den Startlöchern und versorgt uns zum Jahresende nochmal mit den größten Hits des Jahres.
Darunter finden sich zudem die absoluten awardverdächtigen Hits von OneRepublic, Ed Sheeran, Alvaro Soler, ClockClock, Felix Jaehn sowie das aktuelle Erfolgs-Duett von Elton John & Britney Spears u. v.m.
Ganz nach dem Motto: Das Beste kommt zum Schluss! "BRAVO The Hits 2022"!
Disk 1 von 2 (CD)
1 Unholy / Smith, Sam feat. Kim Petras
2 Hold Me Closer / John, Elton & Britney Spears
3 Remedy / Leony
4 Shivers / Sheeran, Ed
5 I Ain't Worried / OneRepublic
6 In The Dark / Purple Disco Machine, Sophie And The Giants
7 Enemy (from Arcane League of Legends) / Imagine Dragons X Jid
8 Snap / Rosa Linn
9 Sorry / ClockClock
10 Middle Of The Night / Duhé, Elley
11 Rockstars (Eurovision 2022 / Germany) / Harris, Malik
12 Hold My Hand / Lady Gaga
13 When You're Gone / Mendes, Shawn
14 She's All I Wanna Be / McRae, Tate
15 Do It Better / Jaehn, Felix feat. Zoe Wees
16 Don't You Worry / Black Eyed Peas, Shakira, David Guetta
17 I Believe / Kamrad
18 Solo Para Ti / Soler, Alvaro & Topic
19 Dirty Dancing / Glockenbach feat. Ásdís
20 Sehnsucht / Miksu/Macloud X T-Low
21 Paradise / Liaze
22 Mit Dir / Sido
23 Abcdefu / Gayle
24 Under The Influence / Brown, Chris
25 First Class / Harlow, Jack
Disk 2 von 2 (CD)
1 Call It Love / Jaehn, Felix & Ray Dalton
2 Calm Down / Rema & Selena Gomez
3 Sunroof / Nicky Youre, Dazy
4 Star Walkin'' (League of Legends Worlds Anthem) / Lil Nas X
5 Down Under / Luude feat. Colin Hay
6 The Motto / Tiësto & Ava Max
7 Ferrari / Hype, James, Miggy Dela Rosa
8 Where Did You Go? / Jones, Jax feat. Mnek
9 In Your Arms (For An Angel) / Topic X Robin Schulz X Nico Santos X Paul Van Dyk
10 Stay With Me / Harris, Calvin feat. Justin Timberlake, Halsey & Pharrell Williams
11 Belly Dancer / Imanbek
12 Mood / Makar
13 Miss You / Southstar
14 Ausmacht / Emilio
15 House of Memories / Panic! At The Disco
16 Forget Me / Capaldi, Lewis
17 3 Tage am Meer / AnnenMayKantereit
18 Infinity / Young, Jaymes
19 Super Freaky Girl / Minaj, Nicki
20 Weg von mir / Civo
21 Wildberry Lillet / Chuba, Nina
22 Ohne Benzin / Domiziana
23 Move Your Body / Öwnboss, Sevek
24 Die schönsten Tage / SDP & Clueso
25 Layla / DJ Robin & Schürze