The Bongolian: Harlem Hipshake (180g)
Harlem Hipshake (180g)
LP
LP (Long Play)
Die gute alte Vinyl - Langspielplatte.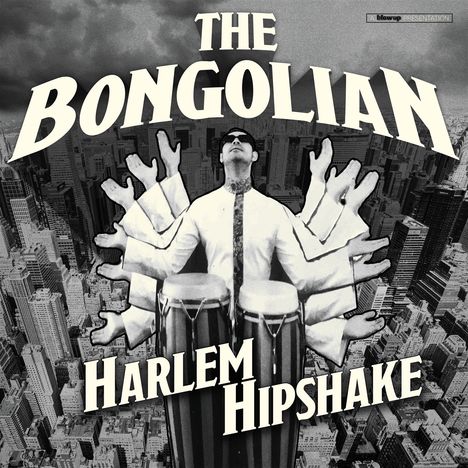 lieferbar innerhalb 1-2 Wochen
(soweit verfügbar beim Lieferanten)
Verlängerter Rückgabezeitraum bis 31. Januar 2023
Alle zur Rückgabe berechtigten Produkte, die zwischen dem 1. bis 31. Dezember 2022 gekauft wurden, können bis zum 31. Januar 2023 zurückgegeben werden.

Vinyl liefern wir innerhalb Deutschlands immer portofrei.
Label: Blow Up, 2020
Bestellnummer:

10335278

Erscheinungstermin: 13.11.2020
Weitere Ausgaben von Harlem Hipshake
Product Information

Harlem Hipshake sees the welcome return of The Bongolian AKA multi-instrumentalist and Big Boss Man front man Nasser Bouzida. This, the sixth album under The Bongolian moniker, follows the highly acclaimed Moog Maximus. Harlem Hipshake finds The Bongolian deeply immersed in his lifelong love for the music of the sixties New York's Latin Soul scene, particularly the music of Ray Barretto, Mongo Santamaria and Joe Bataan. Principally a drummer, percussionist by trade, Nasser has once again delivered another set of heavy breaks and percussive grooves underpinning this brand-new collection of songs which he has written and produced.

Whilst Nasser performs many of the instruments (as is usual with Bongolian albums) on the album, it also features a prominent use of additional UK musicians on brass duties. These include Terry Edwards (Trumpet, Trombone, Sax, Flute), Gareth James Bailey (Trombone) and Craig Crofton (Alto Sax), James Morton (Alto Sax), Andrew Ross (Tenor and Baritone sax) and Ralph Lamb (Trumpet). From the East Side to the West Side, get ready for the Harlem Hipshake.


Die Hörproben gehören zum Artikel The Bongolian: Harlem Hipshake (CD). Das Tracklisting kann bei diesem Artikel ggf. abweichen.
LP
1 Give The Drummer Some
2 Harlem Hipshake
3 East Side Rumble
4 Lsd Got A Hold On Me
5 Flatfoot Hustle
6 Soul Drums On 110th Street
7 Do You Like It Like That
8 Manhattan Cornbread
9 El Beardo
10 West Side Stories
11 Mojito Time Baby
12 Tito's Pay Off
13 Swinging At Palm Gardens