The Beatles: Let It Be (Limited 50th Anniversary Super Deluxe Edition)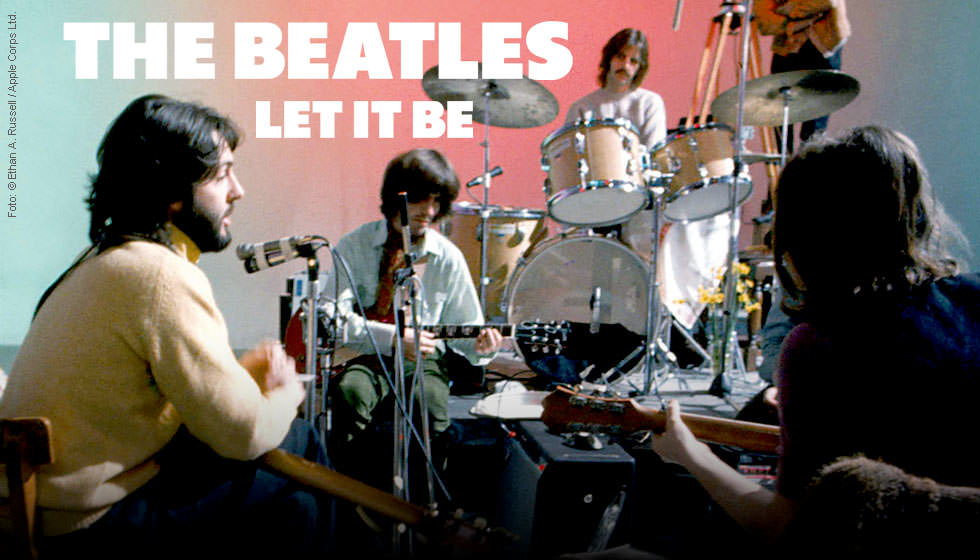 Das letzte Album
Es war zwar nicht das letzte Album, das die Beatles aufnahmen, aber das letzte, das sie veröffentlichten: »Let It Be«, der Soundtrack zu ihrer gleichnamigen Dokumentation, die die Rocklegenden bei Proben und Album-Aufnahmen zeigt.

Universal feiert den 50. Geburtstag dieses Meilensteins 2021 mit verschiedenen Reissues und Expanded Editons.
Let It Be (Limited 50th Anniversary Super Deluxe Edition)
5 CDs, 1 Blu-ray Audio, 1 Buch
CD (Compact Disc)
Herkömmliche CD, die mit allen CD-Playern und Computerlaufwerken, aber auch mit den meisten SACD- oder Multiplayern abspielbar ist.
Label: Universal, 1970
Bestellnummer:

10699479

Erscheinungstermin: 15.10.2021
Blu-ray Audio:Dolby Atmos 48khz/24bit/DTS-HD Master Audio 5.1/96khz/24bit/PCM Stereo 96khz/24bit;Bild:16:9;Ländercode:All Regions
Gesamtverkaufsrang: 1052
Verkaufsrang in CDs: 475
Die Jubiläumseditionen zum 50.
Das letzte Studioalbum der Beatles, »Let It Be«, wird im Oktober 2021 als verspätete Jubiläumsausgabe zum 50. Geburtstag neu aufgelegt, und zwar in verschiedenen Konfigurationen.
»Let It Be« ist das zwölfte und letzte Studioalbum der britischen Rocklegenden. Es wurde ursprünglich am 8. Mai 1970 in Großbritannien und Deutschland veröffentlicht. Obwohl die meisten Aufnahmen bereits Anfang 1969 vor dem Vorgängeralbum »Abbey Road« eingespielt wurden, erschien es erst danach, parallel zum gleichnamigen Film »Let It Be«. The Beatles hatten sich zu diesem Zeitpunkt bereits aufgelöst. Phil Spector wurde zuvor die Aufgabe übertragen, aus den vielen Stunden an Bändern ein Album zu erstellen.
Wie die meisten früheren Releases der Beatles erreichte »Let It Be« in vielen Ländern Spitzenplätze in den Albumcharts: Platz eins in Großbritannien und den USA, Platz drei in Deutschland. Die Reaktionen der Kritiker waren jedoch im Allgemeinen nicht gerade positiv, weshalb »Let It Be« auch als eines der umstrittensten Rockalben der Geschichte angesehen wird.
Zum 50. Geburtstag gibt es »Let It Be« jetzt als Reissue auf CD und als LP, wahlweise auf 180-g-Vinyl oder als Picture Disc. Zudem dürfen sich Fans über verschiedene 50th Anniversary Deluxe Editions mit vielen Extras freuen, darunter eine Doppel-CD, ein Set mit fünf CDs, einer Blu-ray Audio und einem Buch sowie ein Set mit vier LPs, einer 12ʺ-Single und einem Buch. Die Inhalte und Informationen zu den jeweiligen Formaten finden Sie im Folgenden.
Die Limited Super Deluxe Special Edition (CD) im Überblick:
Insgesamt 57 Tracks auf fünf CDs und einer Blu-ray Audio inklusive Buch
CD 1: »Let It Be« als neuer Stereomix des Originalalbums: 12 Tracks
CD 2 und 3: Bis dato unveröffentlichte Outtakes, Studio-Jams und Proben-Aufnahmen: 27 Tracks
CD 4: Der bis dato unveröffentlichte »Get Back«-LP-Mix (1969) von Glyn Johns, neu gemastert: 14 Tracks
CD 5: Let It Be EP: Glyn Johns' unveröffentlichte 1970er-Mixe von »Across The Universe« und »I Me Mine« sowie Giles Martins und Sam Okells neue Stereomixe der Singles »Don't Let Me Down« und »Let It Be«: 4 Tracks
Blu-ray Audio: mit dem neuen Stereomix des Albums in Hi-Res 96 kHz / 24-bit; 5.1 Surround Sound und Dolby-Atmos-Mixen
Das gesamte Tracklisting finden Sie im Folgenden.
Dazu gibt es ein 105-seitiges Hardcoverbook mit
Vorwort von Paul McCartney
Einleitung von Giles Martin
Erinnerung von Glyn Johns
detaillierten Track-Notes vom legendären Beatles-Historiker, Autor und Radio-Producer Kevin Howlett
seltenen und teilweise unveröffentlichten Fotos von Ethan A. Russell und Linda McCartney plus nie zuvor veröffentlichten handgeschriebenen Lyrics, Session-Notes, Beatles-Korrespondenzen u. v. m.
Rezensionen
»Zum vorletzten aufgenommenen und letzten veröffentlichten Beatles-Album lassen sich ganze Romane schreiben.​ Auf der Haben-Seite stehen das foto- und faktenreiche Buch und die Abmischung von Giles Martin und Sam Okell wegen der klareren Konturen.​« (Good Times, Dezember 2021/Januar 2022)
Disk 1 von 7
1 Two Of Us
2 Dig A Pony
3 Across The Universe
4 I Me Mine
5 Dig It
6 Let It Be
7 Maggie Mae
8 I've Got A Feeling
9 One After 909
10 The Long And Winding Road
11 For You Blue
12 Get Back
Disk 2 von 7
1 Get Back - Apple Sessions: Morning Camera (Speech – mono) / Two Of Us (Take 4)
2 Maggie Mae / Fancy My Chances With You (Mono)
3 Can You Dig It?
4 I Don't Know Why I'm Moaning (Speech – mono)
5 For You Blue (Take 4)
6 Let It Be / Please Please Me / Let It Be (Take 10)
7 I've Got A Feeling (Take 10)
8 Dig A Pony (Take 14)
9 Get Back (Take 19)
10 Like Making An Album? (Speech)
11 One After 909 (Take 3)
12 Don't Let Me Down (First rooftop performance)
13 The Long And Winding Road (Take 19)
14 Wake Up Little Susie / I Me Mine (Take 11)
Disk 3 von 7
1 Get Back - Rehearsals and Apple Jams: On The Day Shift Now (Speech – mono) / All Things Must Pass (Rehearsals – mono)
2 Concentrate On The Sound (mono)
3 Gimme Some Truth (Rehearsal – mono)
4 I Me Mine (Rehearsal – mono)
5 She Came In Through The Bathroom Window (Rehearsal)
6 Polythene Pam (Rehearsal – mono)
7 Octopus's Garden (Rehearsal – mono)
8 Oh! Darling (Jam)
9 Get Back (Take 8)
10 The Walk (Jam)
11 Without A Song (Jam) – Billy Preston with John and Ringo
12 Something (Rehearsal – mono)
13 Let It Be (Take 28)
Disk 4 von 7
1 Get Back LP – 1969 Glyn Johns Mix: One After 909
2 I'm Ready (aka Rocker) / Save The Last Dance For Me / Don't Let Me Down
3 Don't Let Me Down
4 Dig A Pony
5 I've Got A Feeling
6 Get Back
7 For You Blue
8 Teddy Boy
9 Two Of Us
10 Maggie Mae
11 Dig It
12 Let It Be
13 The Long And Winding Road
14 Get Back (Reprise)
Disk 5 von 7
1 Let It Be EP: Across The Universe (unreleased Glyn Johns 1970 mix)
2 I Me Mine (unreleased Glyn Johns 1970 mix)
3 Don't Let Me Down (new mix of original single version)
4 Let It Be (new mix of original single version)
Disk 6 von 7
1 Let It Be Special Edition Audio Mixes: Dolby Atmos
2 96kHz/24-bit DTS-HD Master Audio 5.1
3 96kHz/24-bit High Res Stereo (2019 Stereo Mix)
Disk 7 von 7