Tears For Fears: The Seeds Of Love (Deluxe Edition)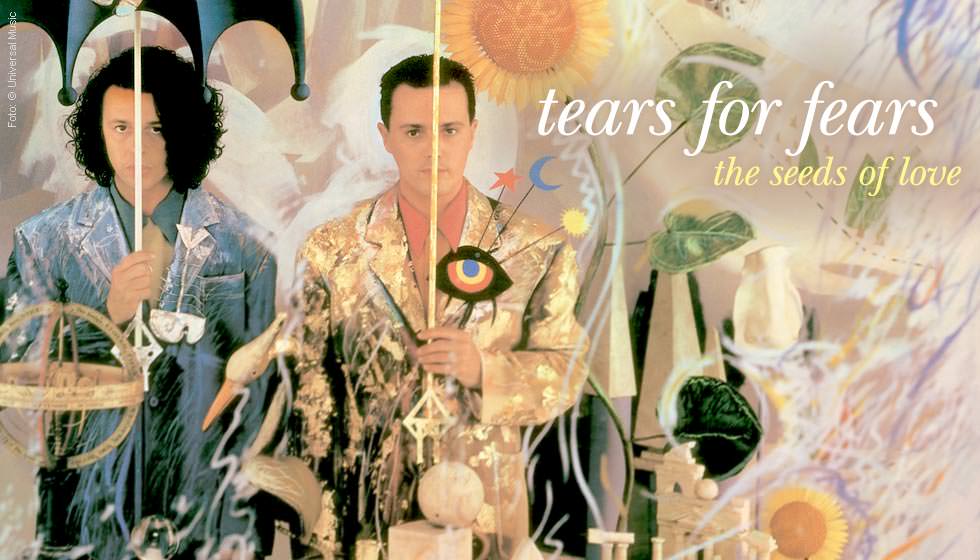 Der Meilenstein ist zurück
Vor 31 Jahren veröffentlichten Tears For Fears ihr Album »The Seeds Of Love«. Das Album feierte große Charterfolge und gilt heute als Meilenstein der New-Wave- und Rockmusik.

2020 legt die Kultband diesen Klassiker noch einmal auf, und zwar als CD, LP, als Deluxe-Doppel-CD und als Limited Super Deluxe Edition mit vielen spannenden Extras und Raritäten.
The Seeds Of Love (Deluxe Edition)
2 CDs
CD (Compact Disc)
Herkömmliche CD, die mit allen CD-Playern und Computerlaufwerken, aber auch mit den meisten SACD- oder Multiplayern abspielbar ist.
Nur noch 1 Stück am Lager. Danach versandfertig innerhalb von 1-3 Tagen (soweit verfügbar beim Lieferanten)
Label: Mercury, 1989
Bestellnummer:

10284147

Erscheinungstermin: 9.10.2020
*** Digipack
The Seeds Of Love ist das dritte Studioalbum von Tears For Fears. Das Album wurde im September 1989 veröffentlicht, stieg auf Platz 1 der britischen Album-Charts ein und sollte innerhalb von drei Wochen vom BPI mit Platin ausgezeichnet werden. In den USA erreichte das Album mit Platz 8 seinen Höhepunkt und wurde ebenfalls mit Platin ausgezeichnet. Auch in verschiedenen anderen Ländern der Welt erreichte das Album die Top Ten.

Das Album enthielt die Singles: Sowing The Seeds Of Love, Woman In Chains, Advice For The Young At Heart und Badman's Song, der nach seiner Veröffentlichung als eines der größten Alben der 80er Jahre angesehen wurde (und immer noch wird).


Rezensionen
»Dieses Album ist ein Meisterwerk, das Tears For Fears zu einer Blaupause und zur Sample-Quelle für zeitgenössische Musiker werden ließ.​« (Audio, November 2020)
Disk 1 von 2
1 Woman in chains (Album Version)
2 Badman's song
3 Sowing the seeds of love
4 Advice for the young at heart
5 Standing on the Corner of the Third World
6 Swords and Knives
7 Year of the Knife
8 Famous Last Words
Disk 2 von 2
1 Sowing The Seeds Of Love (7" Version)
2 Tears Roll Down
3 Woman In Chains (7" Version)
4 Always In The Past
5 My Life In The Suicide Ranks
6 Woman In Chains (Instrumental Version / Previously Unreleased)
7 Advice For The Young At Heart (7" Version)
8 Johnny Panic And The Bible Of Dreams (Instrumental Version)
9 Music For Tables
10 Johnny Panic And The Bible Of Dreams (Mix One)
11 Johnny Panic And The Bible Of Dreams (Mix Two)
12 Sowing The Seeds Of Love (US Radio Edit)
13 Woman In Chains (US Radio Edit)
14 Advice For The Young At Heart (Italian Radio Edit)
15 Year Of The Knife (Canadian Single Version)
16 Johnny Panic And The Bible Of Dreams