The Coventry Automatics Aka The Specials: The Best Of The Specials
The Best Of The Specials
2 LPs
LP (Long Play)
Die gute alte Vinyl - Langspielplatte.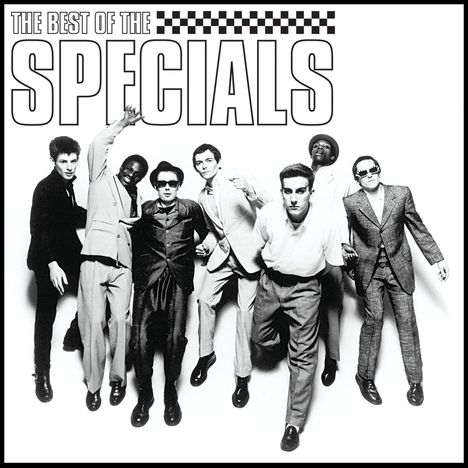 Vinyl liefern wir innerhalb Deutschlands immer portofrei.
Label: Chrysalis
Bestellnummer:

8828192

Erscheinungstermin: 18.1.2019
Weitere Ausgaben von The Best Of The Specials
Gesamtverkaufsrang: 22589
Verkaufsrang in LPs: 5954
Das im Sommer 1979 auf schmaler Front in England ausgebrochene Revival das "Ska" mit seinen schnellen karibischen Offbeat-Rhythmen war, was die Anzahl der beteiligten Bands anging, eigentlich klein und überschaubar - tatsächlich gibt's nur 4 Namen zu nennen, alle mehr oder weniger gemischtrassig: Madness, The (English) Beat, Selecter und vor allem natürlich die SPECIALS als Vorreiter, Fixpunkt, 2-Tone-Labelgründer und auch politisches Sprachrohr. Umso größer sind die Erfolge und der Einfluss dieses Gruppen-Quartetts zu bewerten, den sie mit ihren zahllosen Singles und diversen Alben bis hin zur Mitte der 80er, aber auch mit den verschiedenen Nachfolge-Formationen (u.a. Fun Boy Three, Colourfield, General Public, Fine Young Cannibals) erreichten. Nicht zuletzt waren es die zeitweilig in Special A.K.A. umgetauften SPECIALS, die mit ihrer weltweit gefeierten "Free Nelson Mandela"-Hymne schon Anfang 1984 auf das Schicksal des eingesperrten südafrikanischen ANC-Führers hinwiesen.




Die Hörproben gehören zum Artikel The Coventry Automatics Aka The Specials: The Best Of The Specials (CD + DVD) (CD). Das Tracklisting kann bei diesem Artikel ggf. abweichen.
LP
1 Gangsters
2 A Message To You Rudy
3 Nite Klub (Album version)
4 Concrete Jungle
5 Too Much Too Young (Live)
6 Blank Expression
7 Doesn't Make It Alright
8 Rude Buoys Outa Jail
9 Rat Race
10 Man At C&A
LP
1 Do Nothing (Single version)
2 Stereotypes
3 International Jet Set (Album version)
4 Friday Night, Saturday Morning
5 Why?
6 Ghost Town (Full version)
7 What I Like Most About You Is Your Girlfriend (Album version)
8 Racist Friend (Single version)
9 War Crimes (Single version)
10 Nelson Mandela (Album version)