Simon & Garfunkel: Parsley, Sage, Rosemary And Thyme (180g)
Parsley, Sage, Rosemary And Thyme (180g)
LP
LP (Long Play)
Die gute alte Vinyl - Langspielplatte.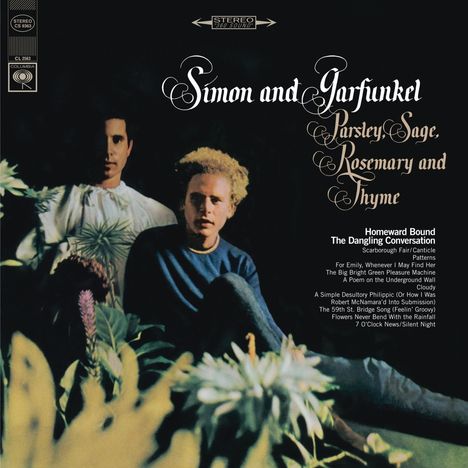 umgehend lieferbar, Bestand beim Lieferanten vorhanden

Vinyl liefern wir innerhalb Deutschlands immer portofrei.
Label: Columbia, 1966
Bestellnummer:

8711377

Erscheinungstermin: 19.10.2018
Weitere Ausgaben von Parsley, Sage, Rosemary And Thyme
Das zweite Album von Simon & Garfunkel nach dem Riesenerfolg ihres Debütalbums "Sounds of Silence". Einige der eingespielten Titel stammen aus dem bereits früher nur in Großbritannien veröffentlichten "Songbook" von Paul Simon.

In seinen Liner Notes zu Parsley, Sage, Rosemary and Thyme schrieb der Musikkritiker Ralph J. Gleason 1966: »Die Songs auf diesem Album sind Songs für alle Zeiten«. Paul Simon und Art Garfunkel veröffentlichten ihr drittes Album erneut mit dem für seinen Perfektionismus bekannten Produzenten Bob Johnston, der ihre präzisen Arrangements von Toningenieur Roy Halee mit einem Acht-Spur-Rekorder einfangen ließ.




Tracklisting

Details

Mitwirkende
Die Hörproben gehören zum Artikel Simon & Garfunkel: Parsley, Sage, Rosemary And Thyme (Ltd. 24 Karat Gold-HDCD) (CD). Das Tracklisting kann bei diesem Artikel ggf. abweichen.
LP
1 Scarborough Fair / Canticle
2 Patterns
3 Cloudy
4 Homeward Bound
5 The Big Bright Green Pleasure Machine
6 The 59th Street Bridge Song (Feelin' Groovy)
7 The Dangling Conversation
8 Flowers Never Bend with the Rainfall
9 A Simple Desultory Philippic (Or How I Was Robert McNamara'd into Submission)
10 For Emily, Whenever I May Find Her
11 A Poem on the Underground Wall
7 O'Clock News / Silent Night
12 7 O'clock News
13 Silent Night