Scorpions: Return To Forever (Limited 50th Anniversary Collector's Box) (3CD + 7" + Shirt Gr.L)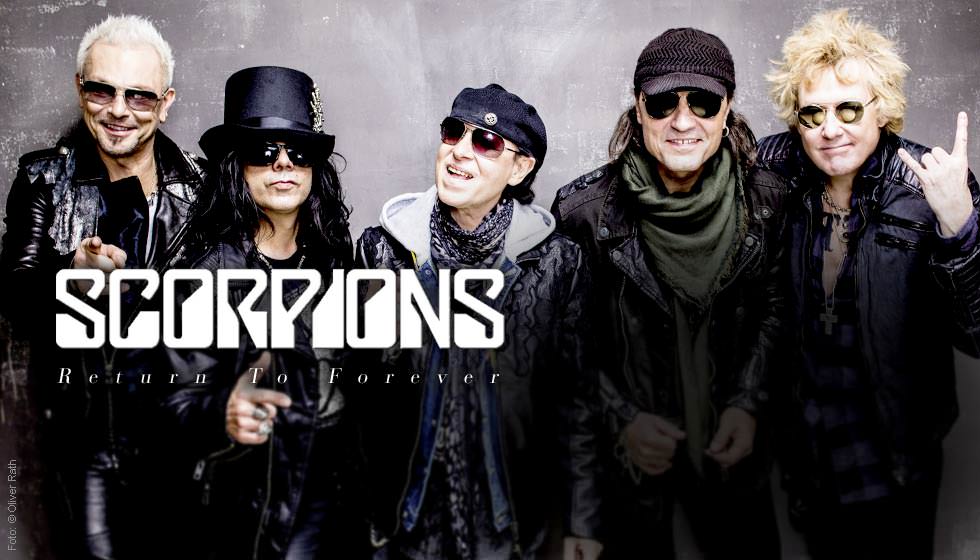 50 Jahre Rock
Eigentlich wollten sich die Scorpions verabschieden – jetzt feiern sie erstmal das 50. Jubiläum. »Es kommt immer noch schwer über meine Lippen,« sagt Klaus Meine. »Fünfzig Jahre – große Güte.«

Die Festschrift zum runden Geburtstag gibt es in Form eines neuen Albums. Beim Durchforsten der Archive haben die Scorps Songs wiedergefunden, die es – auch wegen der eingeschränkten Spielzeiten einer LP – nie auf ein Album schafften. Beim Aufbereiten der alten Songideen kamen schnell neue Ideen dazu. Die Dynamik und Spielfreude zeigt die Scorpions auf der Höhe ihrer Schaffenskraft.

Insgesamt zeigen sich die Scorpions so zeitgemäß, dass nur der Insider erkennen wird, welcher Song seinen Ursprung in welcher Dekade hatte.
Return To Forever (Limited 50th Anniversary Collector's Box) (3CD + 7" + Shirt Gr.L)
3 CDs, 1 Single 7", 1 T-Shirt, 1 Merchandise
CD (Compact Disc)
Herkömmliche CD, die mit allen CD-Playern und Computerlaufwerken, aber auch mit den meisten SACD- oder Multiplayern abspielbar ist.
Single 7''
Die gute alte Vinyl –Single.
lieferbar innerhalb 1-2 Wochen
(soweit verfügbar beim Lieferanten)
Bestellmenge limitiert: Bei diesem Artikel nur 1 Exemplar pro Kunde!
Portofrei innerhalb Deutschlands

Vinyl liefern wir innerhalb Deutschlands immer portofrei.
Label: Seven One Music, 2014
Bestellnummer:

6674896

Erscheinungstermin: 20.2.2015
Weitere Ausgaben von Return To Forever
Filmausschnitte/Videotrailer
+ Autogrammkarte + Schlüsselanhänger
Zurück vom Rücktritt

2010 haben sich die Scorpions zur »Farewell-Tour« aufgemacht. Das Ende der Welttournee war nach 200 Konzerten für den Dezember 2012 in München geplant. Damit sollte die Karriere der Scorpions zu Ende sein. Die Band war an einem Punkt angelangt, an dem sie der ewige Kreislauf aus Studioaufenthalten, Albumveröffentlichungen und anschließenden Mammuttourneen total ermüdet hatte.

Doch dann kam alles ganz anders: Mit der Abschieds-Tournee kam neuer Schwung. Die Scorps entdeckten, dass sie nach wie vor auch achtzehn- und neunzehnjährige Fans ansprechen können. Egal wohin sie kamen – die Konzerte waren ausverkauft. Die Energie der Konzerte gab jedem Einzelnen die Motivation und Inspiration zurück, schließlich war klar: »Wir können nicht aufhören.«

Schon während der »Farewell-Tour« wurde 2011 das Album »Comeblack« veröffentlicht. Die Scorpions spielten dafür einige ihrer größten Hits neu ein. Außerdem coverten sie Songs, die ihnen im Laufe ihrer Karriere enorm viel bedeuteten und Meilensteine der Musikgeschichte darstellen.

Ein Blick zurück stand auch am Anfang des neuen Albums. »Return To Forever« ist das achtzehnte Studioalbum und über die Jahre haben sich einige Stücke angesammelt, die es nie auf ein Album geschafft haben. »Return To Forever« sollte acht dieser Stücke aus den Achtzigern für die Fans versammeln. Diese »Outtakes« mussten aber erst fertig geschrieben werden und wurden dann komplett neu eingespielt. Im damit angeschobenen Songwriting-Prozess entstanden immer mehr Songideen, bis schließlich 12 Songs für das neue Album – 16 in der Deluxe Edition – fertig waren.

In »We Built This House« setzen sich Klaus Meine und Co. auch textlich mit den gegangenen Wegen ihrer Karriere auseinander. Schon jetzt kann man sich vorstellen, wie die Stücke »House Of Cards« oder »Eye Of The Storm« wieder die Stadien rocken werden. Fast zufällig entdeckte Rudolf Schenker nämlich, dass 2015 bei den Scorpions das 50. Jubiläum ins Haus steht. Gefeiert wird standesgemäß: mit der »50th Anniversary – World Tour 2015/2016«.

»Return To Forever« ist ein absolut mitreißendes und zeitgemäß rockiges Album geworden. Die Scorpions gehören längst noch nicht in den Ruhestand.

Album im Ecolbook (+ 4 Bonustracks),
T-Shirt (100 % Baumwolle / Größe L),
USB-Lanyard (enthält die MP3-Version des Albums),
7'' Picture Vinyl
2-CD-Hörbuch (Digisleeve)
und eine handsignierte Autogrammkarte.
Rezensionen

»Gleich im schlagkräftigen Opener ›Going Out With A Bang‹ zeigen Schenker, Meine & Co. allen Zweiflern, dass sie keinen Rost angesetzt haben.« (Stereo, April 2015)
Disk 1 von 6
1 Going out with a Bang
2 We Built This House
3 Rock My Car
4 House of Cards
5 All for One
6 Rock 'n' Roll Band
7 Catch Your Luck and Play
8 Rollin' Home
9 Hard Rockin' the Place
10 Eye of the Storm
11 The Scratch
12 Gypsy Life
13 BONUS TRACKS:The World We Used to Know
14 Dancing with the Moonlight
15 When the Truth Is a Lie
16 Who We Are
Disk 2 von 6
1 AUDIOBOOK:Rudolf About Founding the Band in 1965
2 Klaus About the Scorpions' Early Years
3 Klaus About Band Life in the Early '70s
4 Rudolf About the Albums in the '70s
5 Klaus About Lineup Changes in 1978
6 Matthias About His Passion for Music and Joining the Band in 1978
7 Klaus About First Musical Steps Abroad
8 Matthias About Worldwide Success
9 Klaus About Success in the US
10 Klaus About Concerts In The Ussr And 'Wind Of Change'
11 Matthias About 'Still Loving You'
12 Klaus About His Passion for Music and the Last Five Years on the Road
13 Rudolf About the Creation of the New Album and 50th Band Anniversary
14 Klaus About the New Album
15 Matthias About 'Return To Forever'
16 Klaus About the Future
Disk 3 von 6
1 AUDIOBOOK:Rudolf über die Bandgründung im Jahr 1965
2 Rudolf über den Bandnamen 'Scorpions'
3 Klaus über seinen Bandeinstieg im Jahr 1969
4 Rudolf über die Alben der 70er
5 Matthias über seine Musikbegeisterung, den Bandeinstieg und den Sommer 1978
6 Rudolf über neue musikalische Herausforderungen und den Erfolg in Amerika in den 80ern
7 Klaus über den Rock-'n'-Roll-Traum einer internationalen Karriere
8 Matthias über weltweiten Erfolg
9 Klaus Über Konzerte In Der Udssr
10 Rudolf über Love, Peace & Rock 'n' Roll
11 Matthias über 'Still Loving You'
12 Klaus über 'Wind of Change'
13 Klaus über Akustik- und Unplugged-Projekte
14 Rudolf über die Entstehung des neuen Albums und 50 Jahre Scorpions
15 Klaus über das neue Album
16 Matthias über 'Return To Forever'
17 Klaus über erreichte Ziele und die Zukunft
Disk 4 von 6
1 We Built This House (Single Edit)
2 House of Cards (Single Edit)
Disk 5 von 6
Disk 6 von 6