Rat Pack (Sinatra/Martin/Davis Jr.): It Happened In Vegas (Orange Transparent Vinyl)
It Happened In Vegas (Orange Transparent Vinyl)
1 LP, 5 CDs
LP (Long Play)
Die gute alte Vinyl - Langspielplatte.
CD (Compact Disc)
Herkömmliche CD, die mit allen CD-Playern und Computerlaufwerken, aber auch mit den meisten SACD- oder Multiplayern abspielbar ist.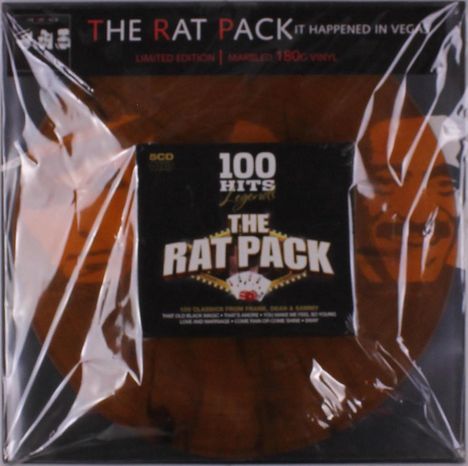 Lieferzeit beträgt mind. 4 Wochen
(soweit verfügbar beim Lieferanten)

Vinyl liefern wir innerhalb Deutschlands immer portofrei.
Label: Magic Of Vinyl
Bestellnummer:

10861697

Erscheinungstermin: 11.3.2022
Weitere Ausgaben von It Happened In Vegas
Der Schauspielerin Lauren Bacall wird zugeschrieben, die Bezeichnung The Rat Pack spontan erfunden zu haben, nachdem sie sah, wie eine Gruppe von Schauspielern und Sängern, darunter auch Frank Sinatra, nach vier durchzechten Nächten in Las Vegas zurück ins Hotel ging. Die Essenz dieser Gruppe waren Frank Sinatra, Dean Martin und Sammy Davis Jr.

Die gemeinsamen Auftritte als Rat Pack im Sands Hotel Las Vegas machten diesen Namen später weltbekannt und bis in die Gegenwart unvergessen. Zahlreiche Shows und sogar ein Musical halten die Faszination des Rat Pack und die drei Weltstars bis heute am Leben. Ihre legendären Songs haben längst einen Platz für die Ewigkeit.
LP
1 Frank Sinatra: The Lady Is A Tramp
2 Sammy Davis Jr., Dean Martin: Sam's Song
3 Sammy Davis Jr.: A Lot Of Livin' To Do
4 Dean Martin: Volare
5 Frank Sinatra: Come Fly With Me
6 Dean Martin: All I Do Is Dream Of You
7 Sammy Davis Jr: Too Close For Comfort
8 Frank Sinatra: You Make Me Feel So Young
9 Dean Martin: Buona Sera
10 Sammy Davis Jr. & Frank Sinatra: Me And My Shadow
11 Frank Sinatra: Ring-A-Ding-Ding!
12 Sammy Davis Jr.: Eee-O-Eleven
13 Dean Martin: You're Nobody 'Til Somebody Loves You
14 Sammy Davis Jr.: Something's Coming
15 Frank Sinatra: One For My Baby (And One More For The Road)
16 Sammy Davis Jr.: The Party's Over
CD
1 Dean Martin: I Feel A Song Coming On
2 Frank Sinatra: There's No Business Like Show Business
3 Sammy Davis Jr.: That Old Black Magic
4 Dean Martin: That's Amore
5 Frank Sinatra: I Get A Kick Out Of You
6 Sammy Davis Jr.: Hey There!
7 Sammy Davis Jr.: All Of You
8 Frank Sinatra: My Funny Valentine
9 Dean Martin: Just For Fun
10 Dean Martin: Just One More Chance
11 Frank Sinatra: Young At Heart
12 Sammy Davis Jr.: Easy To Love
13 Frank Sinatra: Three Coins In The Fountain
14 Dean Martin: Standing On The Corner
15 Sammy Davis Jr.: Too Close For Comfort
16 Frank Sinatra: You Make Me Feel So Young
17 Dean Martin: Money Burns A Hole In My Pocket
18 Dean Martin: Kiss
19 Sammy Davis Jr.: Spoken For
20 Frank Sinatra: Old Devil Moon
CD
1 Dean Martin: Memories Are Made Of This
2 Sammy Davis Jr.: September Song
3 Frank Sinatra: Love And Marriage
4 Frank Sinatra: (Love Is) The Tender Trap
5 Dean Martin: Under The Bridges Of Paris
6 Dean Martin: In The Cool, Cool, Cool Of The Evening
7 Sammy Davis Jr.: Love Me Or Leave Me
8 Frank Sinatra: Don't Worry 'Bout Me
9 Dean Martin: How Do You Speak To An Angel?
10 Sammy Davis Jr.: Glad To Be Unhappy
11 Frank Sinatra: Love Is Here To Stay
12 Frank Sinatra: Anything Goes
13 Dean Martin: That Lucky Old Sun
14 Sammy Davis Jr.: Frankie And Johnnie
15 Frank Sinatra: A Foggy Day (In London Town)
16 Dean Martin: Powder Your Face With Sunshine (Smile! Smile! Smile!)
17 Frank Sinatra: Violets For Your Furs
18 Dean Martin: There's My Lover
19 Sammy Davis Jr.: And This Is My Beloved
20 Frank Sinatra: Makin' Whoopee
CD
1 Sammy Davis Jr.: Because Of You
2 Dean Martin: Pretty As A Picture
3 Frank Sinatra: South Of The Border
4 Sammy Davis Jr.: New York's My Home
5 Frank Sinatra: Autumn In New York
6 Dean Martin: Night Train To Memphis
7 Dean Martin: Young And Foolish (Plain And Fancy)
8 Sammy Davis Jr.: Lonesome Road
9 Frank Sinatra: Just One Of Those Things
10 Frank Sinatra: You Brought A New Kind Of Love To Me
11 Dean Martin: Who's Sorry Now
12 Dean Martin: I'm Yours
13 Sammy Davis Jr.: Six Bridges To Cross
14 Frank Sinatra: Deep Night
15 Frank Sinatra: Mood Indigo
16 Dean Martin: Let Me Go Lover
17 Sammy Davis Jr.: Stan' Up An' Fight
18 Dean Martin: The Man Who Plays The Mandolino
19 Frank Sinatra: When You're Smiling
20 Frank Sinatra: Begin The Beguine
CD
1 Sammy Davis Jr.: Something's Gotta Give
2 Frank Sinatra: Swingin' Down The Lane
3 Dean Martin: Bye, Bye Blackbird
4 Sammy Davis Jr.: In A Persian Market
5 Sammy Davis Jr.: Azure
6 Dean Martin: You Can't Love 'Em All
7 Dean Martin: Me 'N' You 'N' The Moon
8 Frank Sinatra: You're Getting To Be A Habit With Me
9 Frank Sinatra: It Happened In Monterey
10 Sammy Davis Jr.: There's A Small Hotel
11 Sammy Davis Jr.: Come Rain Or Come Shine
12 Dean Martin: Three Wishes
13 Frank Sinatra: Blue Skies
14 Dean Martin: Dreamy Old New England Moon
15 Dean Martin: I'll Always Love You (Day After Day)
16 Sammy Davis Jr.: Love (Your Magic Spell Is Everywhere)
17 Sammy Davis Jr.: Smile, Darn Ya, Smile
18 Dean Martin: Muskrat Ramble
19 Dean Martin: Once In Love With Amy
20 Frank Sinatra: One For My Baby (And One More For The Road)
CD
1 Frank Sinatra: I've Got You Under My Skin
2 Dean Martin: The Naughty Lady Of Shady Lane
3 Sammy Davis Jr.: It's All Right With Me
4 Dean Martin: Sway
5 Dean Martin: Mambo Italiano
6 Frank Sinatra: I Am Loved
7 Frank Sinatra: You Do Something To Me
8 Sammy Davis Jr.: The Birth Of The Blues
9 Frank Sinatra: Learnin' The Blues
10 Frank Sinatra: Azure: Te (Paris Blues)
11 Sammy Davis Jr.: The Gypsy In My Soul
12 Sammy Davis Jr.: The World Is Mine Tonight
13 Dean Martin: My Own, My Only, My All
14 Frank Sinatra: Little Girl Blue
15 Sammy Davis Jr.: The Nearness Of You
16 Frank Sinatra: I Thought About You
17 Dean Martin: Innamorata
18 Sammy Davis Jr.: It Started All Over Again
19 Dean Martin: I Got The Sun In The Morning (And The Moon At Night)
20 Frank Sinatra: Pennies From Heaven