Noel Gallagher's High Flying Birds: Back The Way We Came: Vol.1 (2011 - 2021)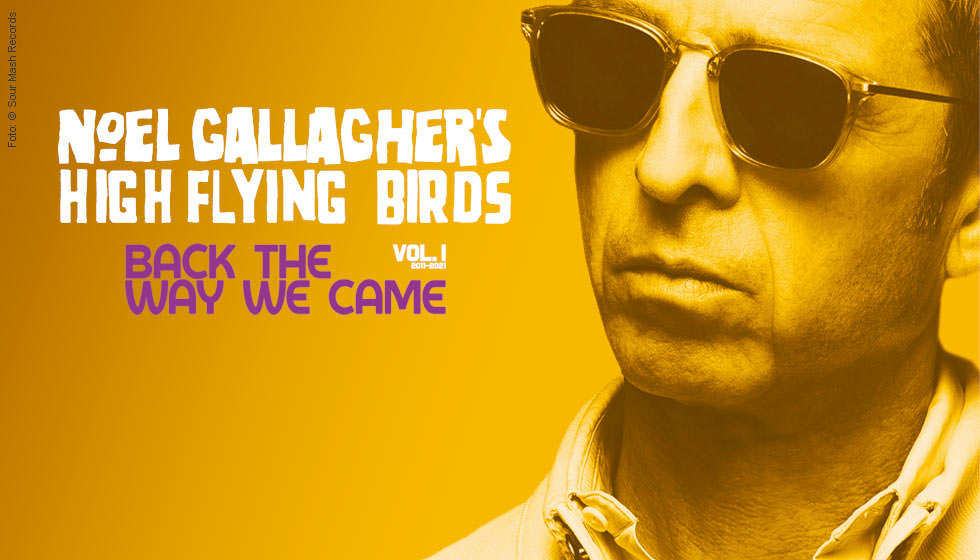 Das Beste aus 10 Jahren
Zwei Jahre nach der Trennung von Oasis gründete Noel Gallagher seine High Flying Birds. 2021 feiert die britische Rockband nun bereits ihren zehnten Geburtstag.

Und wie ginge das besser als mit einem Karriererückblick.

»Back The Way We Came: Vol. 1 (2011–2021)« heißt das Best-of-Album, das Songs aller Alben und EPs sowie ein paar Überraschungen versammelt.
Back The Way We Came: Vol.1 (2011 - 2021)
2 CDs
CD (Compact Disc)
Herkömmliche CD, die mit allen CD-Playern und Computerlaufwerken, aber auch mit den meisten SACD- oder Multiplayern abspielbar ist.
lieferbar innerhalb 1-2 Wochen
(soweit verfügbar beim Lieferanten)
Label: Sour Mash
Bestellnummer:

10478012

Erscheinungstermin: 11.6.2021
*** Triplesleeve
Back The Way We Came: Vol. 1 (2011-2021) ist eine Best Of, die das erste Jahrzehnt von Noel Gallagher's High Flying Birds feiert.

Dieses Doppelalbum, das komplett von Noel kuratiert und zusammengestellt wurde, enthält Tracks aus den drei Nummer-Eins-Alben ('Noel Gallagher's High Flying Birds', 'Chasing Yesterday' und 'Who Built The Moon?') und den drei hochgelobten EPs ('Black Star Dancing', 'This Is The Place' und 'Blue Moon Rising') - plus zwei bisher unveröffentlichte Tracks, darunter die brandneue Single 'We're On Our Way Now'.

Das Album ist in einer limitierten Deluxe-Edition erhältlich, die eine Bonus-Disc mit bisher unveröffentlichten Akustik-Versionen, Remixen, Instrumentals und einem ungehörten Demo enthält.

Standard 2CD-Softpack
Rezensionen
»Die Doppel-CD enthält Tracks aus den bisherigen drei Alben und EPs – plus zwei bisher unveröffentlichte Stücke, darunter die neue Single ›We're On Our Way Now‹.​« (Good Times, August/September 2021)
Disk 1 von 2 (CD)
1 Everybody's On The Run
2 The Death Of You And Me
3 AKA...What A Life!
4 If I Had A Gun...
5 In The Heat Of The Moment
6 Riverman
7 Lock All The Doors
8 The Dying Of The Light
9 Ballad Of The Mighty I
10 We're On Our Way Now
Disk 2 von 2 (CD)
1 Black Star Dancing
2 Holy Mountain (Remastered)
3 A Dream Is All I Need To Get By
4 This Is The Place
5 It's A Beautiful World
6 Blue Moon Rising
7 Dead In The Water (Live At RTÉ 2FM Studios, Dublin)
8 Flying On The Ground