Metallica: ...And Justice For All (Expanded Edition)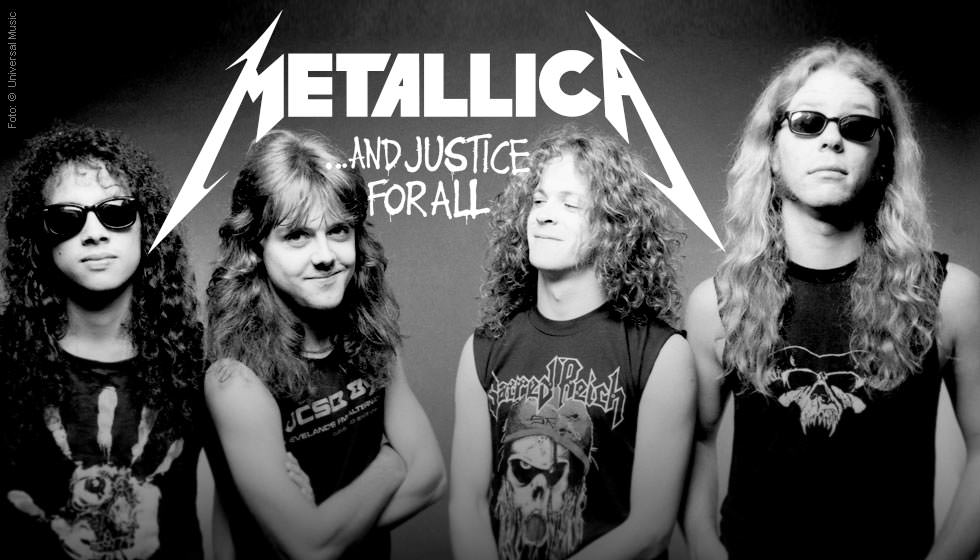 Happy Birthday!
Kaum zu glauben, aber wahr: Metallicas Album »… And Justice For All« feiert 2018 bereits seinen 30. Geburtstag. Und wie könnte man das besser, als mit einer remasterten Neuauflage dieses Klassikers?

Genau die präsentieren die Thrash-Metal-Legenden 2018: »… And Justice For All« erscheint in verschiedenen spannenden Editionen.
...And Justice For All (Expanded Edition)
3 CDs
CD (Compact Disc)
Herkömmliche CD, die mit allen CD-Playern und Computerlaufwerken, aber auch mit den meisten SACD- oder Multiplayern abspielbar ist.
Label: Mercury, 1988
Bestellnummer:

8740083

Erscheinungstermin: 2.11.2018
*** digitally remastered 2018
Gesamtverkaufsrang: 16864
Verkaufsrang in CDs: 6912
Der Klassiker neu aufgelegt
Metallica-Fans aufgepasst: »… And Justice For All« kommt 2018 als remasterte Neuauflage in vielen spannenden Formaten.
»… And Justice For All« ist das vierte Studioalbum von Metallica. Es erschien ursprünglich am 6. September 1988 und war gleichzeitig der erste Longplayer mit Jason Newsted, der den zwei Jahre zuvor tödlich verunglückten Cliff Burton am Bass ersetzte.
Das Album landete in mehreren Ländern in den Top 10 der Charts, darunter die USA, Großbritannien und Deutschland.
»… And Justice For All« ist jetzt als remasterte CD und Doppel-LP und als MC erhältlich. Außerdem wartet eine 3-CD-Expanded-Edition mit dem Album, einer CD mit unveröffentlichten Rough Mixes und Demos und einer weiteren CD mit unveröffentlichten Liveaufnahmen. Abgerundet wird das Set von einem Booklet mit noch nie gesehenen Fotos von Ross Halfin.
Die Krönung für alle Metallica-Fans ist jedoch das »… And Justice For All«-Deluxe-Box-Set mit der Doppel-LP, einer »One«-Picture-Disc, einem 3-LP-Live-Set, elf CDs, vier DVDs, vier Patches, einem Pushead-Druck, einem Tourführer, einer Downloadkarte und einem 120-seitigen Buch.
Ein Album-Klassiker wird 30. Hier sind die mehr als würdigen Geburtstags-Editionen von Metallicas »… And Justice For All«.
Die 3-CD-Expanded-Edition im Überblick:
»… And Justice For All« remastert auf CD
CD mit unveröffentlichten Rough Mixes und Demos
CD mit unveröffentlichten Liveaufnahmen
Booklet mit noch nie gesehenen Fotos von Ross Halfin
Disk 1 von 3
1 Blackened
2 ...And Justice for All
3 Eye of the Beholder
4 One
5 The Shortest Straw
6 Harvester of Sorrow
7 The Frayed Ends of Sanity
8 To Live is to Die
9 Dyers Eve
Disk 2 von 3
1 Blackened (November 1987 Demo)
2 ...And Justice for All (November 1987/Writing In Progress)
3 Eye of the Beholder (November 1987/Writing In Progress)
4 One (Work In Progress Rough Mix)
5 The Shortest Straw (December 1987/Writing In Progress)
6 Harvester of Sorrow (Work In Progress Rough Mix)
7 The Frayed Ends of Sanity (November 1987 Demo)
8 To Live is to Die (Work In Progress Rough Mix)
9 Dyers Eve (January 1988 Demo)
Disk 3 von 3
1 Blackened (Live Seattle Coliseum, Seattle/1989)
2 For Whom the Bell Tolls (Live Long Beach Arena, Long Beach, CA/December 7th, 1988)
3 Welcome Home (Sanitarium) (Live Hammersmith Odeon, London, England/October 10th, 1988)
4 Leper Messiah (Live Long Beach Arena, Long Beach, CA/December 7th, 1988)
5 Harvester of Sorrow (Live Hammersmith Odeon, London, England/October 10th, 1988)
6 Eye of the Beholder (Live Hammersmith Odeon, London, England/October 10th, 1988)
7 Seek & Destroy (Live Troubadour, West Hollywood, CA/May 24th, 1988)
8 Creeping Death (Live Reunion Arena, Dallas, TX/February 5th, 1989)
9 One (Live Seattle Coliseum, Seattle/1989)
10 ...And Justice for All (Live Long Beach Arena, Long Beach, CA/December 7th, 1988)
11 Whiplash (Live Troubadour, West Hollywood, CA/May 24th, 1988)
12 Breadfan (Live Seattle Coliseum, Seattle, WA/August 29th, 1989)