Johnny Hates Jazz: Turn Back The Clock (30th Anniversary Edition)
Turn Back The Clock (30th Anniversary Edition)
3 CDs
CD (Compact Disc)
Herkömmliche CD, die mit allen CD-Playern und Computerlaufwerken, aber auch mit den meisten SACD- oder Multiplayern abspielbar ist.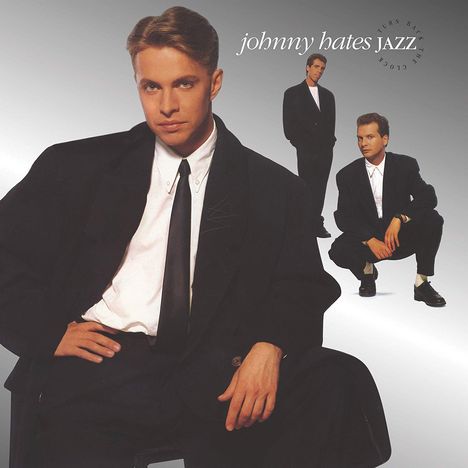 lieferbar innerhalb 1-2 Wochen
(soweit verfügbar beim Lieferanten)
Label: Dato Music
Bestellnummer:

8713849

Erscheinungstermin: 4.10.2018
*** Digipack
Johnny Hates Jazz veröffentlichen zu ihrem 30-jährigen Jubiläum eine Deluxe Edition ihres Debütalbums ›Turn Back The Clock‹, das damals den Durchbruch brachte. Die 3CD mit dem komplett remasterten Album, eine brandneue Akustik Version des ganzen Albums und als Disc #3 B-Seiten, Bonus Mixe und unveröffentlichte Demos.

Außerdem gibt es eine 2LP Gatefold Vinyl Edition mit einer remasterten Version von ›Turn Back The Clock‹, sowie brandneue Akustikversionen. ›Turn Back The Clock‹ wurde 1988 ein riesen Hit für Johnny Hates Jazz und brachten ihnen über Nacht globalen Ruhm. Das Album enthält auch die bekannten Singles ›Shattered Dreams‹, ›I Don't Want To Be A Hero‹, den Titelsong und ›Heart Of Gold‹, die eine ganze Ära geprägt haben.
Disk 1 von 3 (CD)
1 Shattered dreams
2 heart of gold
3 Turn back the clock
4 Don't say it's love
5 What other reason
6 I don't want to be a hero
7 Listen
8 Different seasons
9 Don't let it end this way
10 Me and my foolish heart
Disk 2 von 3 (CD)
1 Shattered dreams
2 Heart of gold
3 Turn back the clock
4 Don't say it's love
5 What other reason
6 I don't want to be a hero
7 Listen
8 Different seasons
9 Don't let it end this way
10 Me and my foolish heart
Disk 3 von 3 (CD)
1 Shattered dreams
2 I don't want to be a hero
3 Turn back the clock
4 Heart of gold
5 Don't say it's love
6 Me and my foolish heart
7 My secret garden
8 The cage
9 Cracking up
10 Living in the past
11 Leave it up to me
12 Shattered dreams
13 Turn back the clock
14 Different seasons
15 I don't want to be a hero
Mehr von Johnny Hates Jazz