Joe Bonamassa: A New Day Now (20th Anniversary)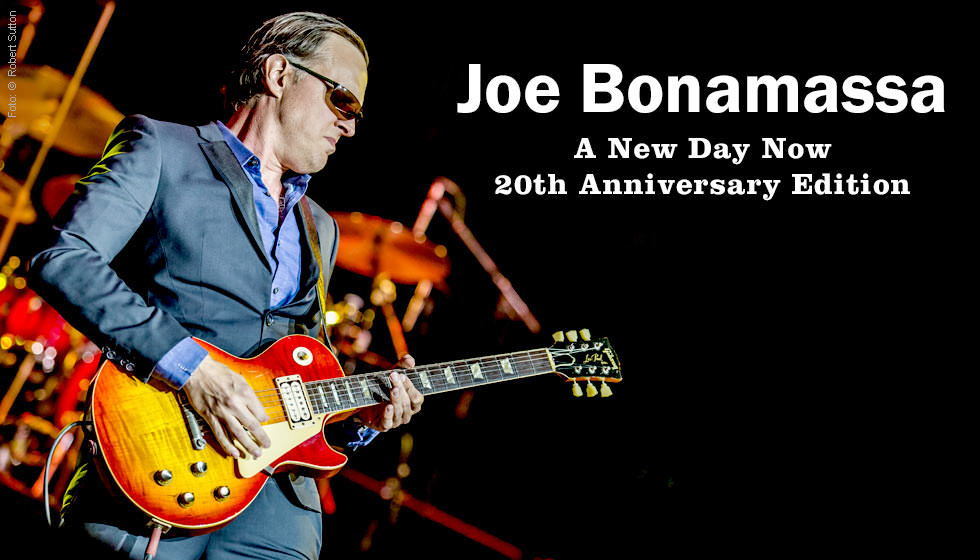 Mehr als das
Vor 20 Jahren setzte Joe Bonamassa mit seinem Album »A New Day Now« den Grundstein für seine beeindruckende Solokarriere, seinen Weg zu einem der besten und erfolgreichsten Bluesgitarristen der Welt.

Zum 20. Jubiläum legte der Musiker sein Debüt noch einmal auf. Aber »A New Day Now – 20th Anniversary Edition« ist mehr als nur ein Reissue.
A New Day Now (20th Anniversary)
CD
CD (Compact Disc)
Herkömmliche CD, die mit allen CD-Playern und Computerlaufwerken, aber auch mit den meisten SACD- oder Multiplayern abspielbar ist.
Nur noch 1 Stück am Lager. Danach versandfertig innerhalb 1-2 Wochen (soweit verfügbar beim Lieferanten)
-35%
Label: Mascot, 2000
Bestellnummer:

9900994

Erscheinungstermin: 7.8.2020
Weitere Ausgaben von A New Day Now
Gesamtverkaufsrang: 1947
Verkaufsrang in CDs: 752
Vor zwanzig Jahren eroberte Joe Bonamassa die Musikwelt im Sturm, als er mit seinem Debüt-Soloalbum »A New Day Yesterday« veröffentlichte. Jetzt kündigt der Blues-Rock-Titan eine überarbeitete Version an, die von Bonamassa komplett neu eingesungen und vom langjährigen Produzenten Kevin Shirley neu abgemischt und gemastert wurde.

Joe Bonamassa hat immer mit einer unglaublichen Zuneigung für den verstorbenen großen legendären Produzenten Tom Dowd gesprochen, der eine herrausragende Diskographie vorweisen kann, ein wahres Who-is-Who der Superstars des Soul, Rock und Blues. Joe war offensichtlich begeistert, als Tom vor zwanzig Jahren für die Produktion seines ersten Soloalbums A New Day Yesterday unterschrieb.

Im Laufe der Zeit hat sich jedoch vor allem Joes Gesangsstil enorm verändert. Er hat sich von einem jugendlichen Shouter zu einem sehr reifen und gefühlvollen Sänger entwickelt. Um den 20. Jahrestag von »A New Day Yesterday« zu feiern, wollte Joe den gesamten Gesang neu gestalten, ohne das ursprüngliche Gefühl der Platte zu verlieren.

Diese Wiederveröffentlichung kommt mit 3 Bonustracks, die mit Steven Van Zandt, dem legendären Gitarristen von Bruce Springsteens E-Street Band, produziert und geschrieben wurden. Um das neue Paket zu vervollständigen, wurde das Album mit einem passenden Titel versehen: A New Day Now - Ausgabe zum 20-jährigen Jubiläum.


Product Information

Twenty years ago, Joe Bonamassa took the music world by storm when he released his debut solo album A New Day Yesterday. Today, the blues-rock titan announces a revamped version that has been completely re-sung by Bonamassa and remixed and remastered by long-time producer Kevin Shirley.

Joe Bonamassa has always talked with an incredible fondness for the late great legendary producer Tom Dowd, who has a stellar discography, a veritable who's who of Soul, Rock and Blues superstars. Joe was obviously thrilled when Tom signed on to produce his first solo album, A New Day Yesterday, twenty years ago.

However, as time has gone by, Joe's vocal style, particularly, has changed enormously. He's grown from an adolescent shouter to a very mature and soulful singer. To celebrate the 20th anniversary of »A New Day Yesterday«, Joe wanted to re-do all vocals without losing the original feel of the record.

This re-release comes with 3 bonus tracks, produced and written with Steven Van Zandt, the legendary guitarist from Bruce Springsteen's E-Street Band. To complete the new package, the album has been rebranded with an appropriate title: A New Day Now - 20th Anniversary Edition.


Rezensionen
»Der Clou der Neuauflage sind aber die drei weit entwickelten Demos, die Bonamassa 1997 mit Produzent Little Steven aufgenommen hatte.​« (Good Times, August/September 2020)
1 Cradle Rock
2 Walk In My Shadows
3 A New Day Yesterday
4 I Know Where I Belong
5 Miss You, Hate You
6 Nuthin' I Wouldn't Do (For A Woman Like You)
7 Colour And Shape
8 Headaches To Heartbreaks (remixing)
9 Trouble Waiting
10 If Heartaches Were Nickels (remixing)
11 Current Situation
12 Don't Burn Down That Bridge
13 Hey Mona (Bonustrack)
14 I Want You (Bonustrack)
15 Line Of Denial (Bonustrack)