Grandbrothers: All The Unknown (Limited Edition) (White Vinyl) (In Deutschland & Österreich exklusiv für jpc!)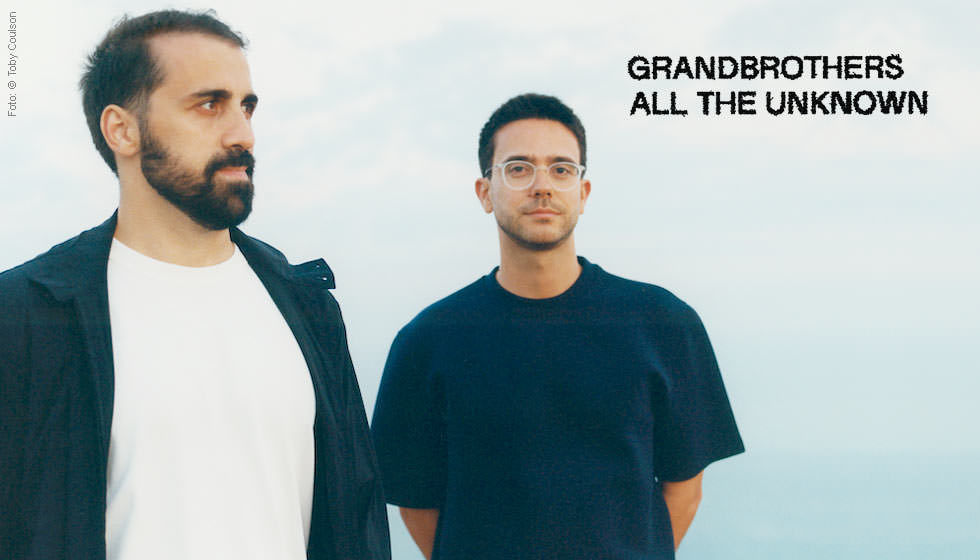 Auf Entdeckungsreise
Deutschland meets Schweiz, Klaviermusik meets Electronica: Erol Sarp und Lukas Vogel alias Grandbrothers gehen 2021 mit einem neuen Album an den Start.

Für »All The Unknown« wagte sich das Duo wieder in unbekannte Sound-Gefilde vor. Was sie dabei entdeckt haben, kann sich sehen bzw. hören lassen.
All The Unknown (Limited Edition) (White Vinyl) (In Deutschland & Österreich exklusiv für jpc!)
2 LPs
LP (Long Play)
Die gute alte Vinyl - Langspielplatte.
Derzeit nicht erhältlich.
Lassen Sie sich über unseren eCourier benachrichtigen, falls das Produkt bestellt werden kann.

Vinyl liefern wir innerhalb Deutschlands immer portofrei.
Weitere Ausgaben von All The Unknown
*** Gatefold Cover
Auf ihrem neuen Album »All The Unknown« präsentieren die Grandbrothers, der Pianist Erol Sarp und der Produzent/Audio-Softwareentwickler Lukas Vogel, die seit ihrer Gründung im Jahr 2012 ihre moderne und einzigartige Interpretation des präparierten Klaviers einsetzen, eine weite, offene Klangwelt der kompositorischen Möglichkeiten.

Die beiden stellen auf ihrem dritten Werk wieder Vergangenheit und Zukunft einander gegenüber und wagen sich mit einem Konzertflügel, einer selbstgebauten, computergesteuerten Apparatur und einem neuen Sinn für Freiheit weiter in die Weiten des Kosmos der elektronischen Musik vor. Mit »Open« (2017) ist den Grandbrothers ein entscheidender Schritt nach vorne gelungen und ihr Song »Bloodflow« entwickelte sich zu einer kleinen Sensation, er häufte über 30 Millionen Streams auf allen Plattformen hinweg an.

Darüber hinaus erhielt »Bloodflow« ein ganz neues Leben, als die französischen Regisseure Nakache & Toledano (»Ziemlich Beste Freunde«) ihn als Hauptsong für den Soundtrack ihres Films »Hors Normes« (2019) auserwählten. Sowohl auf ausgedehnten Tourneen durch Europa (u.a. mit Bonobo), als auch in klassischen Konzertsälen und Festivals wie dem Montreux Jazz Festival konnten sie sich eine begeisterte Fangemeinde erspielen.

»All The Unknown« is Grandbrothers third album and set for January 15th release on City Slang.

The album maps out a wide-open soundworld of compositional possibilities for pianist Erol Sarp and producer / electronic engineer Lukas Vogel, who have been putting their modern and unique electronic spin on prepared piano since first forming in 2012. Forgoing the need to play every single note live, this new album sees the pair juxtapose the old and new once again, venturing further into the electronic cosmos armed with a grand piano, self-built computer-controlled mechanics, and a new sense of latitude.

The debut single and title track from the album »All The Unknown« starts out with the clanging percussive piano figures that have danced across Grandbrothers' previous terrain, but grows with the intensity of high-octane electronica to cast out allusions of classical romance, guided by emotive, cascading keys that collide with stuttering digital percussion.

Listen closely to this latest record and you can hear an old-school hip-hop beat enmeshed in melodic piano, or feel the cold rush of techno fly past at lightning speed. Motifs of club music creep subtly into »All The Unknown»'s impeccably textured palette, which nonetheless uses sounds found exclusively within the piano. These sounds and samples are triggered and collected using mechanics built by Vogel and placed inside the piano, then extracted, processed and shaped beyond their original identity to create alien beeps, beats and tones. Melded these with the organic piano sounds is what fuels Grandbrothers' creativity.
Die Hörproben gehören zum Artikel Grandbrothers: All The Unknown (CD). Das Tracklisting kann bei diesem Artikel ggf. abweichen.
1 Howth
2 What We See
3 Umeboshi
4 All The Unknown
5 The Goat Paradox
6 Four Rivers
7 Shorelines
1 Auberge
2 Organism
3 Silver
4 Black Frost
5 Unrest
6 Mourning Express