Felt (Murs X Slug): Felt 4 U
Felt 4 U
CD
CD (Compact Disc)
Herkömmliche CD, die mit allen CD-Playern und Computerlaufwerken, aber auch mit den meisten SACD- oder Multiplayern abspielbar ist.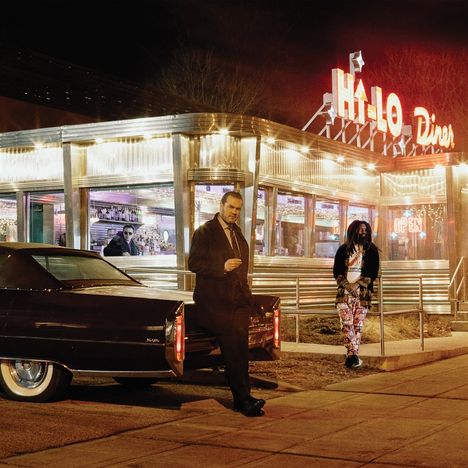 lieferbar innerhalb 1-2 Wochen
(soweit verfügbar beim Lieferanten)
Verlängerter Rückgabezeitraum bis 31. Januar 2023
Alle zur Rückgabe berechtigten Produkte, die zwischen dem 1. bis 31. Dezember 2022 gekauft wurden, können bis zum 31. Januar 2023 zurückgegeben werden.
Label: Rhymesayers, 2020
Bestellnummer:

10272192

Erscheinungstermin: 6.11.2020
Weitere Ausgaben von Felt 4 U
*** Digisleeve
Nach einer 11-jährigen Pause sind Murs und Slug mit ihrem vierten Felt-Album, Felt 4 U, zurück. Ihre musikalische Reise begann 2002 mit der Veröffentlichung von Felt: A Tribute To Christina Ricci, das bald zu einer der meistgeschätzten Veröffentlichungen von Rhymesayers wurde. Dies setzte sich mit der Veröffentlichung von Felt 2: A Tribute To Lisa Bonet im Jahr 2005 fort, als die kreative Partnerschaft von Murs & Slug bereits in den Rang eines Kultes erhoben worden war, und intensivierte sich 2009 mit der Veröffentlichung von Felt 3: A Tribute To Rosie Perez weiter.

Während ihre persönliche Beziehung grundlegend für das Vermächtnis von Felt ist und ihre Kameradschaft sich als treibende Kraft für ihre Kreativität etabliert hat, war auch die Produktion auf Felt-Alben ein wesentlicher Teil ihres Erfolgs. Die Beats der ersten Veröffentlichung wurden von einem anderen Mitglied der Living Legends-Crew von Murs, The Grouch, eingespielt, während das zweite Album von Ant von Atmosphere und das dritte von Aesop Rock produziert wurde. Mit bemerkenswerten Änderungen in den Klangkulissen für jedes Album konnten die MCs bei jeder Veröffentlichung eine einzigartige Seite von sich selbst zeigen, während sie ihren Stil verfeinerten.

Felt 4 U markiert die Rückkehr von Ant, der die komplette Produktion übernommen hat. Klanglich ist das Album überfüllt mit Einflüssen von Funk, Soul, Blues und sogar Country. Felt 3 transportierte ein winterliches Gefühl, Felt 2 klang im Herbst perfekt, und Felt 1 fing die blühenden Klänge des Frühlings ein. Dies nun ist ein ausgesprochen sommerliches Album, bei dem der Reichtum der Produktion von Ant eine Gesamtwärme erzeugt, die das gesamte Projekt umhüllt.

Von den Eröffnungsakkorden von "Never's Enough", mit Funk und vagem Retro-Feeling, zu den unverschämt sanften Vibes von "Underwater", ist dies ein Rap-Album, das der Musik ebenso viel Aufmerksamkeit abverlangt wie den Rappern selbst. Das Album ist einzigartig im Felt Katalog, da es mit Blimes, Blueprint a.k.a. Shepard Albertson, The Grouch und Aesop Rock auch Gastkünstler enthält.
Product Information

After an 11-year hiatus, Murs and Slug are back with their fourth Felt album, Felt 4 U. Their musical journey began back in 2002, with the release of Felt: A Tribute to Christina Ricci, which soon became one of Rhymesayers' most-cherished releases. That continued with the release of Felt 2: A Tribute to Lisa Bonet, in 2005, by which time Murs & Slug's creative partnership had been elevated to a cult-like status, and intensified further in 2009, with the release of Felt 3: A Tribute to Rosie Perez.

While their personal relationship is fundamental to Felt's legacy, with their comradery establishing itself as a driving force for their creativity, the production on Felt albums has also been a major part of their success. The beats on the first release were provided by another member of Murs' Living Legends crew, The Grouch, while the second album was produced by Ant of Atmosphere, and the third by Aesop Rock. With notable changes in the sonic backdrops for each album, the MC's were allowed to share a unique side of themselves each release, while fine-tuning their styles and showcasing their own growth. The decision to use different producers for those albums was an integral part of the group's journey. A lot has changed since their last release in 2009, including for Murs and Slug themselves in both their personal and professional lives. Their careers have continued to elevate and their families have continued to grow, and this fourth album is something of a reflection of those changes, starting with the title of the project itself. Felt 4 U seemed the simplest, most direct way of saluting the fanbase that has made Felt what they are, a thank you to the dedicated; as well as moving away from the perhaps more male gaze-feel of the previous titles.

Even amidst the changes we still find familiarities, like Ant making a return to handle full production on Felt 4 U. Sonically, the album is overflowing with the influences of funk, soul, blues and even country flavors. While Felt 3 had a wintery feel, Felt 2 sounded perfect in autumn and the first Felt captured the blossoming sounds of spring, this is a distinctly summery album, with the richness of Ant's production creating an overall warmth that envelops the whole project.

From the opening chords of "Never's Enough", with its funk-fueled, vaguely retro feel, to the outrageously smooth vibes of "Underwater", this is a rap album that demands as much attention for the music, as it does for the rappers themselves. The album is unique to the Felt catalog for its inclusion of guest artists though, with four features making their way onto the final cut. The aforementioned "Underwater" features an excellent appearance from Blimes, who brings her inimitable style to the hook, and Blueprint is credited as his alter-ego, Shepard Albertson, thanks to his vocal support on "Crimson Skies", while The Grouch and Aesop Rock join in on "Hologram" making the perfect Easter egg for Felt fans, thanks to their contributions on previous projects. Overall, this album provides the perfect segue into Felt's next chapter. It reflects changing attitudes in the culture and in the world as a whole, and it reflects the changes in Murs and Slug as well. Whereas before, when some songs were delivered with perhaps a slight tone of judgement - for want of a better word - on Felt 4 U we find two artists offering us their opinions and viewpoints in the hopes of furthering discussion. It's exactly what's needed in the current climate and also a sign that the Felt story is far from over.


Disk 1 von 1 (CD)
1 Never's Enough
2 Find My Way
3 Don't Do Me Like That
4 Trees
5 Through The Night
6 Freeze Tag
7 Sticks & Stones
8 Underwater Feat. Blimes
9 Alexander F'real
10 Hologram Feat. The Grouch & Aesop Rock
11 Crimson Skies
12 Borboleta