Elvis Presley: Love Songs (180g) (Red Vinyl)
Love Songs (180g) (Red Vinyl)
3 LPs
LP (Long Play)
Die gute alte Vinyl - Langspielplatte.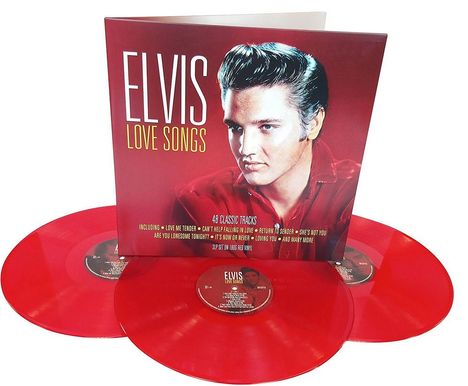 Vinyl liefern wir innerhalb Deutschlands immer portofrei.
Label: Not Now
Bestellnummer:

8058524

Erscheinungstermin: 20.5.2022
Weitere Ausgaben von Love Songs
*** Gatefold Cover
Die hier versammelten Elvis-Aufnahmen haben ihre Anziehungskraft über ein halbes Jahrhundert lang bewahrt. Wie Huey Lewis, Chartstürmer der achtziger Jahre und eingefleischter Presley-Fan, sagt: "Der beste Weg, seine Größe zu würdigen, ist, einfach zurückzugehen und einige der alten Platten zu spielen. Der Lauf der Zeit kann alten Platten sehr unfreundlich sein, aber die von Elvis werden immer besser und besser. Mit anderen Worten - wenn Sie Musik lieben, werden Sie Elvis' Liebeslieder lieben... besonders auf dieser großartigen 3LP-Gatefold-Edition auf herrlichem roten Vinyl!
Die Hörproben gehören zum Artikel Elvis Presley (1935-1977): Love Songs (CD). Das Tracklisting kann bei diesem Artikel ggf. abweichen.
LP
1 Can't help falling in love
2 It's now or never
3 The girl of my best friend
4 Fever
5 Shoppin' around
6 Blue hawaii
7 That's when your heartaches begin
8 (now and then there's) a fool such as i
9 She's not you
10 Return to sender
11 One night
12 Don't ask me why
13 I'm left, you're right, she's gone
14 Playing for keeps
15 Love me
16 Are you lonesome tonight?
LP
1 Have i told you lately that i love you?
2 Good luck charm
3 Wooden heart
4 True love
5 Don't be cruel
6 There's always me
7 Starting today
8 Wear my ring around your neck
9 Love me tender
10 In your arms
11 Loving you
12 Treat me nice
13 Anyway you want me (that's how i will be)
14 Stuck on you
15 (let me be your) teddy bear
16 I want you, i need you, i love you
LP
1 Surrender
2 Tonight is so right for love
3 What's she really like
4 It's a sin
5 Gently
6 Pocketful of rainbows
7 I gotta know
8 I need you so
9 A big hunk o' love
10 I'm coming home
11 Doin' the best i can
12 My wish came true
13 As long as i have you
14 I love you because
15 Lover doll
16 I need your love tonight