Elvis Presley: Elvis Presley 30 #1 Hits (Expanded Edition)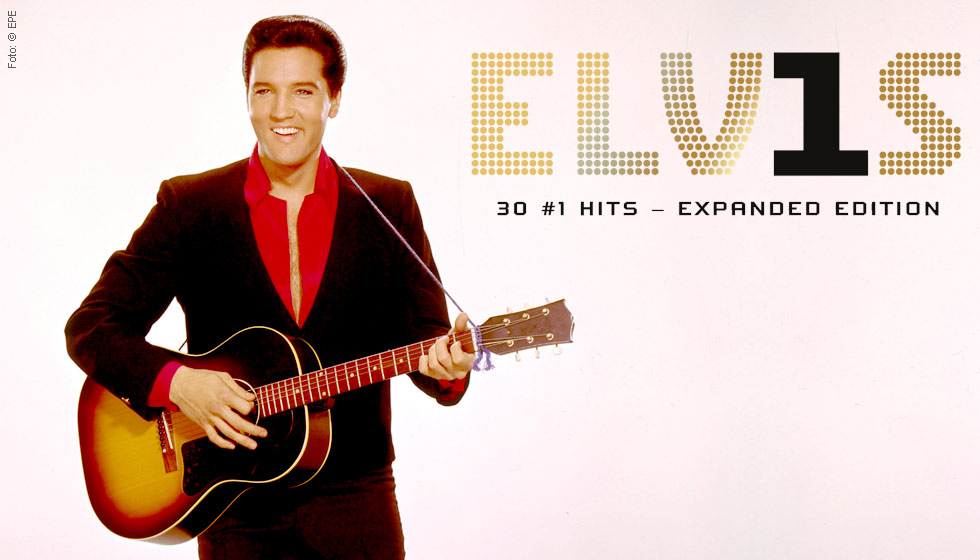 Doppel-Best-of-Album des King of Rock'n'Roll
Elvis Presley ist auch 2022 der erfolgreichste Solo-Künstler der Rock-Geschichte, dessen Songs die Geburtsstunde dieser Musikrichtung prägen.

Die 30 Hits auf jeder der beiden CDs repräsentieren Elvis' Schaffenszeit aus gut zwei Jahrzehnten bis zu seinem frühen Tod 1977. Bereits im Alter von 36 Jahren konnte Elvis drei Grammy-Auszeichnungen und den Lifetime Achievement Award verbuchen.
Elvis Presley 30 #1 Hits (Expanded Edition)
2 CDs
CD (Compact Disc)
Herkömmliche CD, die mit allen CD-Playern und Computerlaufwerken, aber auch mit den meisten SACD- oder Multiplayern abspielbar ist.
Nur noch 1 Stück am Lager. Danach versandfertig mind. 4 Wochen (soweit verfügbar beim Lieferanten)
Label: Sony
Bestellnummer:

10965284

Erscheinungstermin: 24.6.2022
Filmausschnitte/Videotrailer
*** Digipack
Gesamtverkaufsrang: 10835
Verkaufsrang in CDs: 4354
Nur 42 Jahre alt wurde der King Of Rock'n'Roll - in dieser kurzen Zeit prägte er die Musik so nachhaltig wie kaum ein anderer Künstler des 20. Jahrhunderts. Auf dem Album »Elvis 30 #1 Hits« sind alle Nummer-Eins-Hits von Elvis aus den amerikanischen und englischen Hitparaden enthalten, u. a. »Heartbreak Hotel«, »Don't Be Cruel«, »Hound Dog«, »Love Me Tender«, »Jailhouse Rock«, »It's Now Or Never«, »Are You Lonesome Tonight?«, »Can't Help Falling In Love«, »Return To Sender«, »In The Ghetto« und »Suspicious Minds«. Obendrauf gibt es noch seinen posthumen Remix-Nummer-1-Hit »A Little Less Conversation«, der im Original 1968 in seinem Film »Live A Little, Love A Little« (in Deutschland: »Liebling, lass das Lügen«) zum Einsatz kam.

Das Album debütierte auf Platz eins der Billboard 200 in der Woche vom 12. Oktober 2002 mit mehr als 500.000 verkauften Exemplaren laut Nielsen SoundScan. Bis Oktober 2003 hatte sich das Album laut Nielsen SoundScan in den Vereinigten Staaten 3.000.000 Mal verkauft. Das Album war Presleys erstes Album, das auf Platz 1 der Billboard 200 debütierte und war seine erste Nummer 1 seit 1973. Das Album verhalf Elvis dazu, die längste Spanne an Nummer-1-Alben auf der Billboard 200 zu haben. Das Album blieb einhundertzwölf Wochen lang in den Charts.

»Elvis Presley's Klassiker: 30 #1 Hits Expanded Edition« - inkl. Nachfolgealbum »2nd To None« - erhältlich als 2CD Digipack.
Disk 1 von 2 (CD)
1 Heartbreak Hotel
2 Don't Be Cruel
3 Hound Dog
4 Love Me Tender
5 Too Much
6 All Shook Up
7 Teddy Bear
8 Jailhouse Rock
9 Don't
10 Hard Headed Woman
11 One Night
12 A Fool Such as I
13 A Big Hunk O' Love
14 Stuck On You
15 It's Now or Never
16 Are You Lonesome Tonight
17 Wooden Heart
18 Surrender
19 His Latest Flame
20 Can't Help Falling In Love
21 Good Luck Charm
22 She's Not You
23 Return to Sender
24 Devil in Disguise
25 Crying In the Chapel
26 In the Ghetto
27 Suspicious Minds
28 The Wonder of You - Live
29 Burning Love
30 Way Down
31 A Little Less Conversation (JXL Radio Edit Remix)
Disk 2 von 2 (CD)
1 That's All Right
2 I Forgot To Remember To Forget
3 Blue Suede Shoes
4 I Want You, I Need You, I Love You
5 Love Me
6 Mean Woman Blues
7 Loving You
8 Treat Me Nice
9 Wear My Ring Around Your Neck
10 King Creole
11 Trouble
12 I Got Stung
13 I Need Your Love Tonight
14 A Mess Of Blues
15 I Feel So Bad
16 Little Sister
17 Rock-A-Hula Baby
18 Bossa Nova Baby
19 Viva Las Vegas
20 If I Can Dream
21 Memories
22 Don't Cry Daddy
23 Kentucky Rain
24 You Don't Have to Say You Love Me
25 An American Trilogy
26 Always on My Mind
27 Promised Land
28 Moody Blue
29 BONUS TRACKS:I'm A Roustabout
30 Rubberneckin' (Paul Oakenfold Remix / Radio Edit)