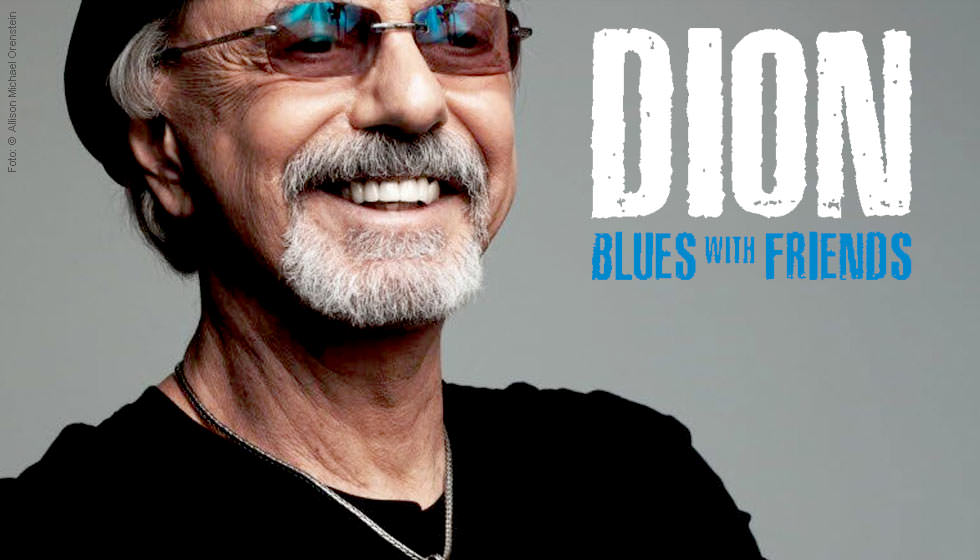 Gute Freunde
»Blues With Friends« – Der Name des neuen Albums von Dion ist Programm. Wie schön, dass der US-amerikanische Kultsänger einige der besten Rock- und Bluesmusiker unserer Erde zu seinen Freunden zählt.

Die Gästeliste ist mehr als beeindruckend. Das Album ebenfalls.
Blues With Friends
CD
CD (Compact Disc)
Herkömmliche CD, die mit allen CD-Playern und Computerlaufwerken, aber auch mit den meisten SACD- oder Multiplayern abspielbar ist.
Weitere Ausgaben von Blues With Friends
Dion mit absolut beeindruckender Gästeliste
Grandioses Blues-Kollaborationsalbum des legendären US-Rockmusikers Dion mit einem All-Star Line-up, das von Joe Bonamassa und Jeff Beck über Paul Simon bis zu Van Morrison und Bruce Springsteen reicht.

Der Rolling Stone (USA) wählte Dion 2008 auf Platz 68 der 100 besten Sänger aller Zeiten. Seine größten Erfolge feierte er als Dion & The Belmonts in den 1950er und 1960er mit Hits wie »A Teenager In Love«, »Runaround Sue« und »The Wanderer«.

Bis heute bleibt Dion DiMucci ein gefragter Rock'n'Roll- & Blues-Sänger und Songschreiber und veröffentlicht nun mit »Blues With Friends« ein fantastisches Album mit prominenten Kollaborationen, darunter mit einigen der größten Rock- und Bluesmusiker weltweit.

Die Liner Notes schrieb niemand Geringeres als Bob Dylan. »Blues With Friends« erscheint auf KSTA Records (Keeping The Blues Alive), einem neu gegründeten Sublabel von Joe Bonamassas Imprint J&R Adventures, das 10 % der Einnahmen an die KSTA Foundation spendet, einer Stiftung zur Förderung der Musikerziehung in Schulen.


Rezensionen
»Ein großartiges Album, zu dem – kein Witz – Bob Dylan die Liner Notes verfasst hat.« (Audio, August 2020)

»14 unterhaltsame Tracks mit virtuosen Soli. Ein Glück, wer solche Freunde hat.« (stereoplay, August 2020)

»Jeff Beck, Billy Gibbons, Van Morrison, Bruce Springsteen & Patti Scialfa, Stevie Van Zandt, Joe Bonamassa, Brian Setzer, Paul Simon und viele mehr sorgen mit Rock-, R&B-, Southern-, Rockabilly- oder Gospel-Würze für reichlich Kurzweil. Zugreifen!« (Good Times, August / September 2020)
1 Blues Comin' On feat. Joe Bonamassa
2 Kickin' Child feat. Joe Menza
3 Uptown Number 7 feat. Brian Setzer
4 Can't Start Over Again feat. Jeff Beck
5 My Baby Loves To Boogie feat. John Hammond
6 I Got Nothin' feat. Van Morrison & Joe Louis Walker
7 Stumbling Blues feat. Jimmy & Jerry Vivino
8 Bam Bang Boom feat. Billy Gibbons
9 I Got The Cure feat. Sonny Landreth
10 Song For Sam Cooke (Here In America) feat. Paul Simon
11 What If I Told You feat. Samantha Fish
12 Told You Once In August feat. John Hammond & Rory Block
13 Way Down (I Won't Cry No More) feat. Stevie Van Zandt
14 Hymn To Him feat. Patti Scialfa & Bruce Springsteen