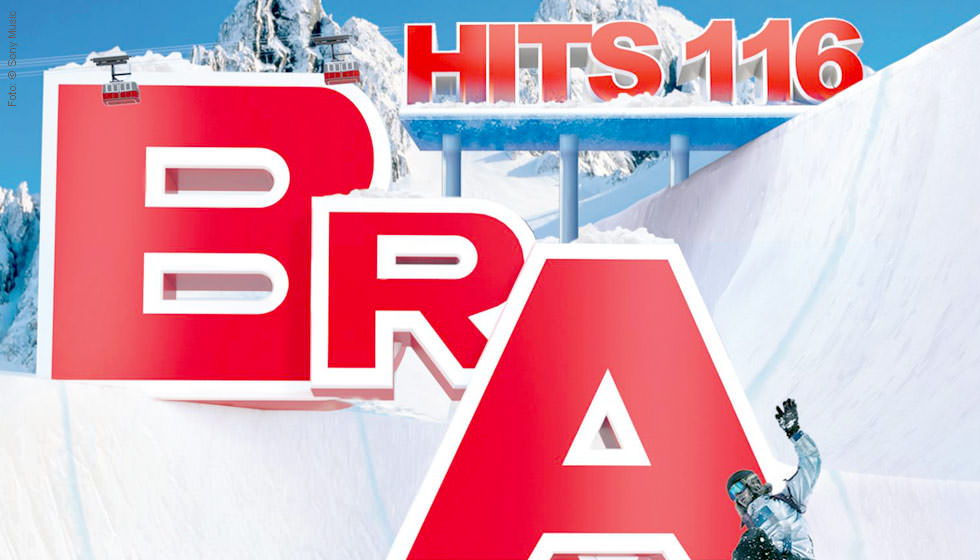 Bunt, bunter, Bravo Hits
Bereits seit 30 Jahren liefern uns die Bravo Hits regelmäßig die größten Chartstürmer auf einer Doppel-CD – ein kunterbunter Mix aus Genres, Künstlern und Songs.

2022 machen sie munter damit weiter. Hier kommen 48 Hits für den Frühling. Hier kommt »Bravo Hits 116«.
Bravo Hits 116
2 CDs
CD (Compact Disc)
Herkömmliche CD, die mit allen CD-Playern und Computerlaufwerken, aber auch mit den meisten SACD- oder Multiplayern abspielbar ist.
Nur noch 1 Stück am Lager. Danach versandfertig innerhalb von 1-3 Tagen (soweit verfügbar beim Lieferanten)
Label: Sony
Bestellnummer:

10817230

Erscheinungstermin: 11.2.2022
Serie: Bravo Hits
Gesamtverkaufsrang: 13604
Verkaufsrang in CDs: 5737
Die erste Bravo Hits für 2022
Da ist sie: die neue »Bravo Hits 116«: Der Hitsampler startet frisch ins neue Musikjahr und präsentiert seine erste Ausgabe für 2022.
Das Tracklisting der neuen »Bravo Hits 116«
Auf zwei randvollen CDs warten wie immer die aktuellen Hits der größten Popstars und interessantesten Newcomer. Mit dabei sind Songs von Imagine Dragons, Wincent Weiss, Mike Singer, Sophie & The Giants, Alle Farben, Swedish House Mafia, The Weeknd und viele mehr. Das gesamte Tracklisting der neuen »Bravo Hits 116« findet ihr im Folgenden.
Zur Serie »Bravo Hits«
Im Jahr 1992 erschien die erste »Bravo Hits«. Der Sampler liefert Musikfans gleich vier Mal jährlich ein Best-of der größten Charthits. Los geht es 2022 mit »Bravo Hits 116«.
Disk 1 von 2 (CD)
1 Gayle: abcdefu
2 Imagine Dragons, Arcane, League Of Legends & Jid: Enemy
3 Wincent Weiss: Morgen
4 Tiësto & Ava Max: The Motto
5 Glockenbach, Clock Clock: Brooklyn
6 The Disco Boys: Around The World (Dazz Remix)
7 Purple Disco Machine Feat. Sophie & The Giants : In The Dark
8 BoyWithUke: Toxic
9 Selmon, Bausa: Molly
10 Leony: Remedy
11 Mike Singer Feat. Kayef: Lass mich los
12 Regard & Kwabs: Signals
13 Goya Menor, Nektunez: Ameno Amapiano Remix (You Wanna Bamba)
14 Ray Dalton x Alvaro Soler: Manila
15 Sophie & The Giants, Benny Benassi, Dardust: Golden Nights
16 Meduza & Hozier: Tell It To My Heart
17 Emmy Meli: I Am Woman
18 Tokio Hotel: Bad Love
19 Gabry Ponte, R3HAB, Timmy Trumpet: Call Me
20 twocolors, Georgie Keller: Feel It 2
21 Alle Farben, Hugel Feat. Fast Boy: Castle
22 Swedish House Mafia Feat. The Weeknd: Moth To A Flame
23 Robin Schulz Feat. Dennis Lloyd: Young Right Know
24 Luude Feat. Colin Hay: Down Under
Disk 2 von 2 (CD)
1 Ed Sheeran: Shivers
2 Sido: Mit dir
3 Kummer Feat. Fred Rabe: Der letzte Song (Alles wird gut)
4 Jaymes Young: Infinity
5 Gregor Hägele: Paracetamol
6 The Neighbourhood: Softcore
7 Shawn Mendes: It'll Be Okay
8 Michael Patrick Kelly: Blurry Eyes
9 Michael Schulte: Remember Me
10 Elley Duhé: Middle Of The Night
11 Justin Jesso: Clarity
12 Capital Bra, Montez: Ein Jahr
13 Apache 207: Sport
14 Lea & Luna: Küsse wie Gift
15 YouNotUs x Nea: : All My Life
16 Vize: Dancing Alone
17 R3hab x Lukas Graham: Most People
18 Galantis, Lucas & Steve, Ilira: Alien
19 Alvaro Soler, David Bisbal: A Contracorriente
20 Alligatoah: Nachbeben
21 Wedding Cake, Snoop Dogg & Heidi Klum: Chai Tea With Heidi
22 Justin Bieber: Ghost
23 Lil Nas X: Thats What I Want
24 The Weeknd: Sacrifice