Blondie: Parallel Lines (180g)
Parallel Lines (180g)
LP
LP (Long Play)
Die gute alte Vinyl - Langspielplatte.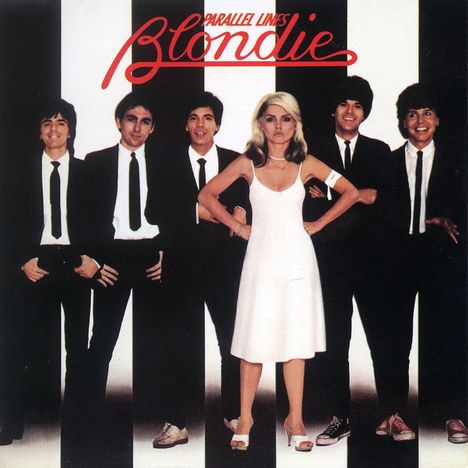 Vinyl liefern wir innerhalb Deutschlands immer portofrei.
Weitere Ausgaben von Parallel Lines
Gesamtverkaufsrang: 3906
Verkaufsrang in LPs: 1631
Gesamtverkaufsrang: 3906
Verkaufsrang in LPs: 1631
Rezensionen
A.​Lockau in Audio 4/84:"Das Ergebnis klingt dann so verführerisch,daß 60er-Jahre- Freaks und kompromißlose Neutöner glei- chermaßen zu Blondianern werden.​" ROLLING STONE ALBUM GUIDE ****1/2 Parallel Lines, recorded with an expanded lineup, represents a huge leap in musicianship and overall conception.​ From the dynamite rock & roll-disco crossover "Heart of Glass", Blondie keep the hooks - and ideas - coming fast.​" ALL MUSIC GUIDE ***** ".​.​.​for their third album they abandoned any pretensions to new wave legitimacy and emerged as a pure pop band.​ .​.​.​what impresses is the album's depth and consistency - album tracks like "Fade Away and Radiate" and "Just Go Away" are as impressive as the songs pulled for singles.​ The result is state-of- the-art pop-rock circa 1978, with Harry's tough-girl glamour setting the pattern that would be exploited over the next decade by a host of successors led by Madonna.​"
LP
1 Hanging On The Telephone (Digitally Remastered 94)
2 One Way Or Another (Remastered 1994)
3 Picture This (Digitally Remastered 94)
4 Fade Away And Radiate (Digitally Remastered 94)
5 Pretty Baby (Digitally Remastered 94)
6 I Know But I Don't Know (Digitally Remastered 94)
7 11:59 (Digitally Remastered 94)
8 Will Anything Happen (Digitally Remastered 94)
9 Sunday Girl (Digitally Remastered 94)
10 Heart Of Glass (Disco Version / 1994 Digital Remaster)
11 I'm Gonna Love You Too (Digitally Remastered 94)
12 Just Go Away (Digitally Remastered 94)