Black Sabbath: The Ultimate Collection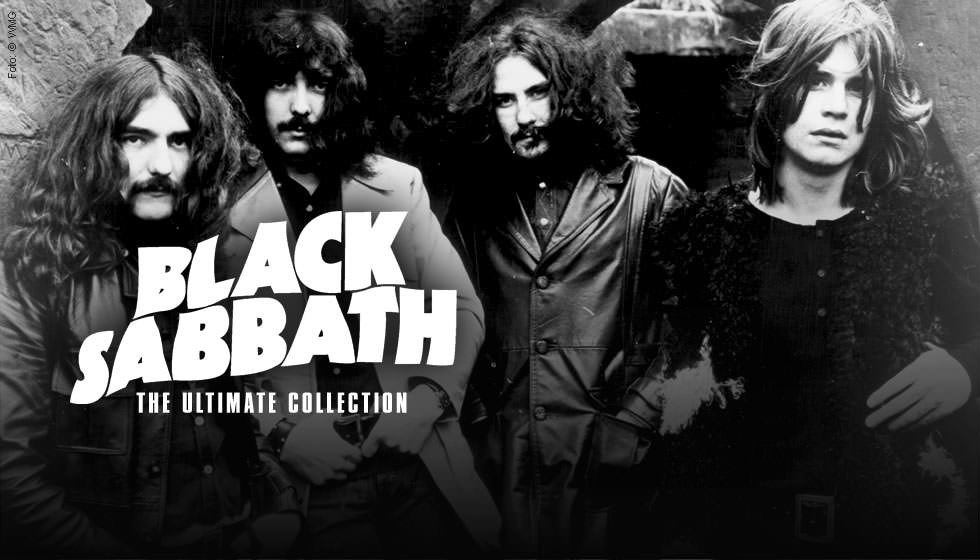 Ein halbes Jahrhundert später
Fast 50 Jahre ist es her, dass Ozzy Osbourne, Tony Iommi, Geezer Butler und Bill Ward Black Sabbath gründeten. Sage und schreibe 19 Alben brachte die legendäre englische Heavy-Metal-Band im Laufe ihrer Karriere heraus. Ihr letztes Album »13« von 2013 erreichte sogar Platz eins der Charts.

2016 stehen Sabbath nun kurz vor der Auflösung, ihre Abschiedstournee ist in vollem Gange. Passend dazu wirft die Band jetzt noch einmal einen Blick zurück, mit »Black Sabbath: The Ultimate Collection«, dem Besten aus einem halben Jahrhundert.
The Ultimate Collection
2 CDs
CD (Compact Disc)
Herkömmliche CD, die mit allen CD-Playern und Computerlaufwerken, aber auch mit den meisten SACD- oder Multiplayern abspielbar ist.
Label: Sanctuary, 1970-1978
Bestellnummer:

4890512

Erscheinungstermin: 28.10.2016
*** digitally remastered 2009
*** Digipack
Gesamtverkaufsrang: 9053
Verkaufsrang in CDs: 4009
Das ultimative Best-of von Black Sabbath
Schon vor einiger Zeit haben die legendären Black Sabbath ihre Auflösung angekündigt. Aber bevor es so weit ist, veröffentlichen Ozzy und Co. 2016 erst einmal »The Ultimate Collection« – einen musikalischen Rückblick auf ihre beeindruckende Karriere.

Mit insgesamt 31 Songs aus 50 Jahren geben Sabbath noch ein letztes Mal einen tiefen Einblick in ihr Gesamtwerk. Mit dabei auf »The Ultimate Collection« sind Klassiker wie »Paranoid«, »Never Say Die«, »A Hard Road«, »Iron Man«, »War Pigs«, »Evil Woman (Don't Play Your Games With Me)«, »The Wizard« und viele mehr.

Die Songauswahl fand in enger Zusammenarbeit mit der Band statt. Alle Stücke wurden von Andy Pearce, der schon für Künstler wie Motörhead, Deep Purple und Lou Reed arbeitete, komplett remastert.

»Black Sabbath: The Ultimate Collection« ist sowohl als Doppel-CD als auch als 4-LP-Set erhältlich.

Das Beste kommt zum Schluss. »The Ultimate Collection« heißt die neue Kompilation, mit der Black Sabbath ihre beeindruckende Karriere noch einmal Revue passieren lassen.


Rezensionen
»... fraglos die erfolgreichste, beständigste und produktivste Zeit der englischen Hard-Rockband, damals bestehend aus Frontmann Ozzy Osbourne, Gitarrist Tony Iommi, Bassist Geezer Butler und Schlagzeuger Bill Ward. Mit Songs wie ›Paranoid‹, ›War Pigs‹, ›Sabbath Bloody Sabbath‹ und ›Iron Man‹ sorgten sie für allerbeste Heavy-Metal-Ware...« (Good Times, Dezember 2016 / Januar 2017)
Disk 1 von 2
1 Paranoid
2 Never Say Die
3 Iron Man
4 Black Sabbath
5 Children of the Grave
6 Fairies Wear Boots
7 Changes
8 Rat Salad
9 Sweet Leaf
10 War Pigs
11 Sabbath Bloody Sabbath
12 Hole In the Sky
13 Symptom of the Universe
14 Spiral Architect
15 Rock'N'Roll Doctor
Disk 2 von 2
1 Dirty Women
2 Evil Woman, Don't Play Your Games With Me
3 A Hard Road
4 Lord of this World
5 Into the Void
6 Behind the Wall of Sleep
7 Snowblind
8 Tomorrow's Dream
9 The Wizard
10 N.I.B.
11 Electric Funeral
12 Embryo
13 Killing Yourself to Live
14 Am I Going Insane? (Radio)
15 Wicked World
16 It's Alright