Accept: Restless And Live 2015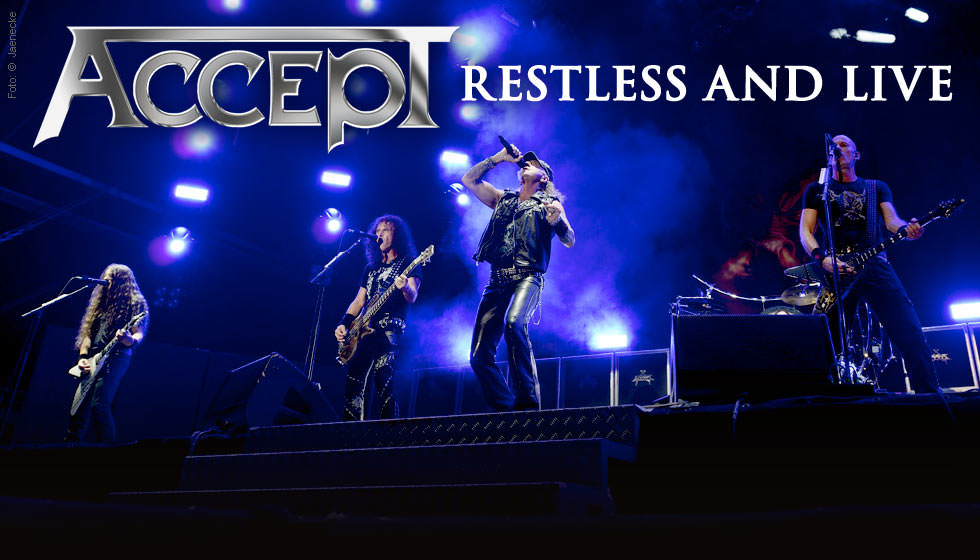 Das Einzige, was fehlte
Sechs Jahre sind seit der letzten Reunion von Accept ins Land gegangen – sechs überaus erfolgreiche Jahre, in denen die Heavy-Metal-Legenden drei Top-10-Platten veröffentlichten, darunter das Nummer-eins Album »Blind Rage«.

Das Einzige, was bislang fehlte, war ein weiteres Livedokument der Band. 2017 erfüllen uns Accept diesen Wunsch. Hier ist »Restless And Live«.
Restless And Live 2015
1 Blu-ray Disc, 2 CDs
Blu-Ray Disc
Die Blu-Ray wurde als High-Definition-Nachfolger der DVD entwickelt und bietet ihrem Vorläufer gegenüber eine erheblich gesteigerte Datenrate und Speicherkapazität. Auf Blu-Rays können daher Filme mit deutlich besserer Auflösung gespeichert werden und bieten auf entsprechenden Bildschirmen eine enorm hohe Bildqualität. Blu-Ray-Player sind in der Regel abwärtskompatibel zu DVDs, so dass auch diese abgespielt werden können.
CD (Compact Disc)
Herkömmliche CD, die mit allen CD-Playern und Computerlaufwerken, aber auch mit den meisten SACD- oder Multiplayern abspielbar ist.
lieferbar innerhalb 2-3 Wochen
(soweit verfügbar beim Lieferanten)
Verlängerter Rückgabezeitraum bis 31. Januar 2022
Alle zur Rückgabe berechtigten Produkte, die zwischen dem 1. bis 31. Dezember 2021 gekauft wurden, können bis zum 31. Januar 2022 zurückgegeben werden.
Label: Nuclear Blast
FSK ab 0 freigegeben
Bestellnummer:

5685808

Erscheinungstermin: 13.1.2017
Weitere Ausgaben von Restless And Live 2015
Sound:Dolby Digital 2.0/DTS HS MA 5.1;Bild:1080p Full HD;Ländercode:All;
Laufzeit:107 Min.
*** Digibook im Schuber
Ein brandneues Livepaket von Accept
Darauf haben Metalfans sehnsüchtig gewartet: 2017 präsentieren Accept ihre neue Livesammlung »Restless And Live«, die als Konzertalbum, Konzertfilm oder in Form verschiedener Livepakete erhältlich ist.

Wahlweise auf zwei CDs oder vier LPs warten Mitschnitte verschiedener Shows der deutschen Metalinstitution aus dem Jahr 2015, zum Beispiel aus Moskau, Krakau, St. Petersburg, Berlin und Hannover. Zu den Songs gehören Accept-Klassiker wie »Balls To The Walls«, »Restless And Wild«, »London Leatherboys«, »Living For Tonite« und viele mehr.

Ein absolutes Highlight wartet zudem auf der DVD bzw. Blu-ray. Der »Restless And Live«-Konzertfilm zeigt den kompletten Auftritt, den Accept beim legendären »Bang Your Head«-Festival abgeliefert haben. Insgesamt 18 Songs spielten die Metalikonen bei ihrer großen Headlinershow, darunter Klassiker und neue Songs, die nach der Reunion entstanden, zum Beispiel »Shadow Soldiers«, »Dark Side Of My Heart« oder »Stampede«.

Die verschiedenen Ausgaben von »Restless And Live« finden Sie oben.

Endlich ein brandneues Livedokument von Accept. Mit »Restless And Live« zeigen die Heavy-Metal-Legenden 2017, dass sie ihre Songs immer noch genauso eindrucksvoll auf die Bühne bringen, wie in den letzten 45 Jahren.
Disk 1 von 3
1 Stampede (Live @ Byh 2015)
2 Stalingrad (Live @ Byh 2015)
3 London Leatherboys (Live @ Byh 2015)
4 Restless And Wild (Live @ Byh 2015)
5 Dying Breed (Live @ Byh 2015)
6 Final Journey (Live @ Byh 2015)
7 Shadow Soldiers (Live @ Byh 2015)
8 Losers And Winners (Live @ Byh 2015)
9 200 Years (Live @ Byh 2015)
10 Midnight Mover (Live @ Byh 2015)
11 No Shelter (Live @ Byh 2015)
12 Princess Of The Dawn (Live @ Byh 2015)
13 Dark Side Of My Heart (Live @ Byh 2015)
14 Pandemic (Live @ Byh 2015)
15 Fast As A Shark (Live @ Byh 2015)
16 Metal Heart (Live @ Byh 2015)
17 Teutonic Terror (Live @ Byh 2015)
18 Balls To The Wall (Live @ Byh 2015)
Disk 2 von 3
1 Stampede (Live in St. Petersburg 2015)
2 Stalingrad (Live in St. Petersburg 2015)
3 Hellfire (Live in Saarbrücken 2015)
4 London Leatherboys (Live in Moscow 2015)
5 Living for Tonite (Live in Saarbrücken 2015)
6 200 Years (Live in Pratteln 2015)
7 Demon's Night (Live in Hannover 2015)
8 Dying Breed (Live in Saarbrücken 2015)
9 Final Journey (Live in Moscow 2015)
10 From the Ashes We Rise (Live in Hannover 2015)
11 Losers and Winners (Live in Berlin 2015)
12 No Shelter (Live in Minsk 2015)
13 Shadow Soldiers (Live in Grenoble 2015)
14 Midnight Mover (Live in Sofia 2015)
Disk 3 von 3
1 Starlight (Live in Yekaterinburg 2015)
2 Restless and Wild (Live in Moscow 2015)
3 Son of a Bitch (Live in Saarbrücken 2015)
4 Pandemic (Live in Saarbrücken 2015)
5 Dark Side of My Heart (Live in Yekaterinburg 2015)
6 The Curse (Live in Krakow 2015)
7 Flash Rocking Man (Live in Saarbrücken 2015)
8 Bulletproof (Live in Saarbrücken 2015)
9 Fall of the Empire (Live in Saarbrücken 2015)
10 Fast as a Shark (Live in Moscow 2015)
11 Metal Heart (Live in St. Petersburg 2015)
12 Teutonic Terror (Live in St. Petersburg 2015)
13 Balls to the Wall (Live in St. Petersburg 2015)
Mehr von Nuclear Blast