Clancy Brothers: Raise A Glass To The Sound
Raise A Glass To The Sound
2 CDs
CD (Compact Disc)
Herkömmliche CD, die mit allen CD-Playern und Computerlaufwerken, aber auch mit den meisten SACD- oder Multiplayern abspielbar ist.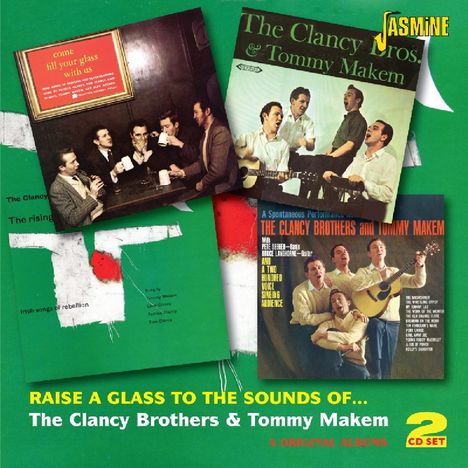 lieferbar innerhalb 1-2 Wochen
(soweit verfügbar beim Lieferanten)
Label: Jasmine
Bestellnummer:

3159889

Erscheinungstermin: 20.9.2012
- The Clancy Brothers waren eine einflussreiche irische Familie von Folk-Sängern, denen man zuspricht, traditionelle irische Musik in den USA bekannt gemacht zu haben.

- Am bekanntesten sind ihre Arbeiten mit Tommy Makem und es besteht kein Zweifel daran, dass The Clancy Brothers und Tommy Makem in den 1960ern die berühmtesten Iren in Amerika waren. Gekleidet in den für sie typischen Aran Sweatern, wirkten sie auf der Bühne stets wild und ausgelassen. Sie stellten hunderte - in ihrer Heimat längst bekannte - Songs einem neuen und willigen Publikum vor.

- Hier enthalten sind ihre ersten 4 LPs, inklusive einer Live-Session mit Pete Seeger.
Disk 1 von 2 (CD)
1 O'Donnell Aboo
2 The croppy boy
3 The rising of the moon
4 The foggy dew
5 The minstrel boy
6 The wind that shakes the barley
7 Tipperary Far Away
8 Kelly The Boy From Killanne
9 Kevin Barry
10 Whack fol the diddle
11 The man of the west
12 Eamonn an Chnuic
13 Nell Flaherty's Drake
14 Boulavogue
15 Whisky you're the devil
16 The Maid Of The Sweet Brown Knowe
17 The Moonshiner
18 Bold Thady Quill
19 Rosin' the bow
20 Finnegan's Wake
21 The real old mountain dew
22 Courting in the kitchen
23 Mick McGuire
24 A Jug Of Punch
25 Johnny McEldoo
26 Cruiscin lan
27 Port Lairge
28 The Parting Glass
Disk 2 von 2 (CD)
1 The Moonshiner (Live)
2 The Whistling Gypsy (Live)
3 My Johnny Lad (Live)
4 The work of the weavers (Live)
5 The old orange flute (Live)
6 Brennan On The Moor (Live)
7 Tim Finnegan's Wake (Live)
8 Port Lairge (Live)
9 Haul Away Joe (Live)
10 Young roddy McCorley (Live)
11 A Jug Of Punch (Live)
12 Reilly's daughter (Live)
13 Brennan On The Moor
14 The work of the weavers
15 The struttering lovers
16 Paddy Doyle's Boots
17 The maid of fife-e-o
18 The bard of Armagh
19 The jug of punch
20 Roddy McCorley
21 The Barnyards Of Delgaty
22 The castle of Dromore
23 The bold tenant farmer
24 Ballinderry
25 Bungle Rye
26 Eileen aroon
27 Johnny I hardly knew you
Mehr von Clancy Brothers