Prefab Sprout: Kings Of Rock & Roll - The Best Of
Kings Of Rock & Roll - The Best Of
2 CDs
CD (Compact Disc)
Herkömmliche CD, die mit allen CD-Playern und Computerlaufwerken, aber auch mit den meisten SACD- oder Multiplayern abspielbar ist.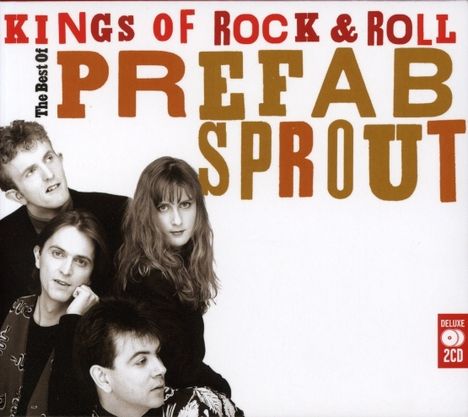 Nur noch 1 Stück am Lager. Danach versandfertig innerhalb 1-2 Wochen (soweit verfügbar beim Lieferanten)
-30%
*Sonderpreis gültig solange Artikel am Lager
Despite never being chart dominators, Prefab Sprout remained very highly acclaimed through the 80s and 90s by a variety of music critics. Famed for their often oblique and suggestive lyrics, Prefab were regarded by many as having created some of the best pop albums of the period.

No fewer than 37 classic tracks from the alt-pop heroes of the 80s and 90s. Features well-remembered hits such as 'When Love Breaks Down', 'Cars And Girls' and 'The King Of Rock 'n' Roll'. Tracks on this fabulous compilation are lifted from across the back catalogue of albums including the Top 5 'From Langley Park To Memphis'.
Disk 1 von 2 (CD)
1 The King Of Rock 'n' Roll
2 When love breaks down
3 Cars and girls
4 The sound of crying
5 The golden calf
6 Carnival 2000
7 Appetite
8 Moving the river
9 A prisoner of the past
10 We let the stars go
11 Nightingales
12 Johnny Johnny
13 Life of surprises
14 Nero the zero
15 Desire as
16 Bonny
17 Couldn't bear to be special
18 Wild horses
Disk 2 von 2 (CD)
1 Faron young
2 Hey Manhattan!
3 Don't sing
4 If you don't love me
5 Looking for Atlantis
6 Electric guitars
7 I remember that
8 Green Isaac
9 Here on the Eerie
10 The yearning loins
11 Cruel
12 Swans
13 I never play basketball now
14 Donna Summer
15 The ice maiden
16 The mystery of love
17 Scarlet nights
18 Anne Marie
19 Pearly gates