Percy Sledge: The Best Of Percy Sledge
The Best Of Percy Sledge
CD
CD (Compact Disc)
Herkömmliche CD, die mit allen CD-Playern und Computerlaufwerken, aber auch mit den meisten SACD- oder Multiplayern abspielbar ist.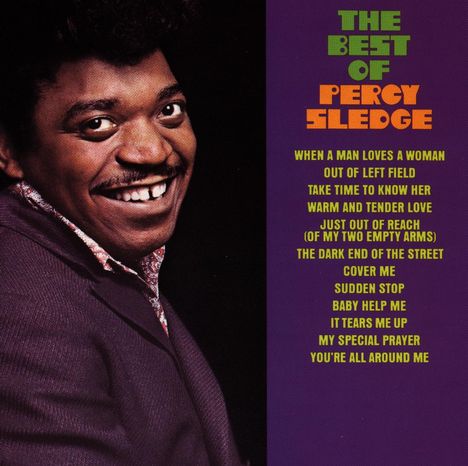 Nur noch 1 Stück am Lager. Danach versandfertig mind. 4 Wochen (soweit verfügbar beim Lieferanten)
Label: Atlantic
Bestellnummer:

5755600

Erscheinungstermin: 27.4.1990
Rezensionen
ROLLING STONE ALBUM GUIDE *** "Spooner Oldham's haunting Farfisa organ sets the mood, the Stax rhythm section kicks in, Percy wails and the song climaxes with a great horn-section ostinato - released in 1966, "When a Man Loves a Woman" is one of the great soul ballads, its message of sacrifice and surrender remaining timelessly romantic.​ Coarse-voiced and absolutely passionate, Sledge hadn't the endurance or distinctiveness to be one of R&B's premier figures, but he's one of the most heartfelt.​"
Disk 1 von 1 (CD)
1 When A Man Loves A Woman
2 Out of left field
3 Take time to know her
4 Warm and tender love
5 Just out of reach
6 The Dark End Of The Street
7 Cover me
8 Sudden stop
9 Baby help me
10 It tears me up
11 My special prayer
12 You're All Around Me