John Mayall: John Mayall Plays John Mayall - Live At Klooks Kleek
John Mayall Plays John Mayall - Live At Klooks Kleek
CD
CD (Compact Disc)
Herkömmliche CD, die mit allen CD-Playern und Computerlaufwerken, aber auch mit den meisten SACD- oder Multiplayern abspielbar ist.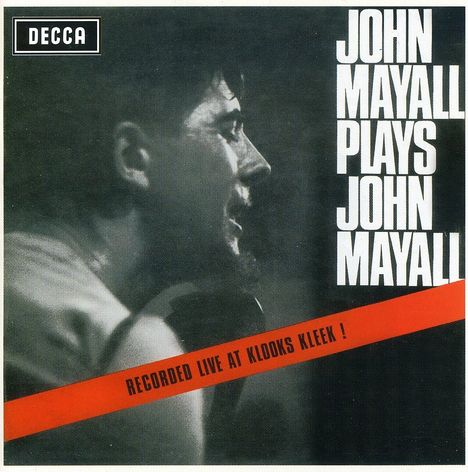 Nur noch 1 Stück am Lager. Danach versandfertig innerhalb 1-2 Wochen (soweit verfügbar beim Lieferanten)
Label: Universal, 1964-65
Bestellnummer:

1802900

Erscheinungstermin: 26.10.2006
John Mayall is perhaps more famous for those who passed through his band than for his actual music. One of the godfathers of British Blues rock, John Mayall's debut album, recorded in 1964, just prior to Eric Clapton joining the band, with Roger Dean on guitar, was recorded live and, uncommonly for the time, featured almost all original material.
Tracklisting

Details

Mitwirkende
Disk 1 von 1 (CD)
Crawling Up A Hill
1 version 2 - mono, live
2 I Wanna Teach You Everything (Live At Klooks Kleek, London / 1964)
3 When I'm Gone (Live At Klooks Kleek, London / 1964)
4 I Need Your Love (Live At Klooks Kleek, London / 1964)
5 The Hoot Owl (Live At Klooks Kleek, London / 1964)
6 R&B Time (Live At Klooks Kleek, London / 1964)
7 Crocodile Walk (Live At Klooks Kleek, London / 1964)
8 What's The Matter With You (Live At Klooks Kleek, London / 1964)
9 Doreen (Live At Klooks Kleek, London / 1964)
10 Runaway (Live At Klooks Kleek, London / 1964)
11 Heartache (Live At Klooks Kleek, London / 1964)
12 Chicago Line (Live At Klooks Kleek, London / 1964)
Crawling Up A Hill
13 Original Version
14 Mr. James
15 Crocodile Walk
16 Blues City Shake Down
17 My Baby Is Sweeter