Bathory: Return Of Darkness
Return Of Darkness
LP
LP (Long Play)
Die gute alte Vinyl - Langspielplatte.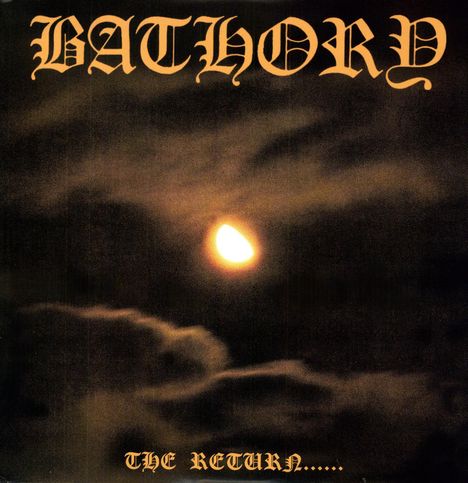 Lieferzeit beträgt mind. 4 Wochen
(soweit verfügbar beim Lieferanten)
Verlängerter Rückgabezeitraum bis 31. Januar 2024
Alle zur Rückgabe berechtigten Produkte, die zwischen dem 1. bis 31. Dezember 2023 gekauft wurden, können bis zum 31. Januar 2024 zurückgegeben werden.

Vinyl liefern wir innerhalb Deutschlands immer portofrei.
Label: Black Mark
Bestellnummer:

4934273

Erscheinungstermin: 24.9.2012
Product Information

Stunning 180 gram limited edition gatefold vinyl reissue of Bathorys second album

Bathory was formed in Stockholm in 1983. Founder Quorthon, a seventeen-year-old guitarist, was joined by bassist Hanoi and drummer Vans. After various name changes (beginning with Nosferatu, then Natas, Mephisto, Elizabeth Bathory and Countess Bathory) they finally settled on Bathory. Their first recording deal came that same year, when Quorthon managed to secure the consent of Tyfon Grammofon's boss to record two tracks for the compilation Scandinavian Metal Attack. The tracks which he recorded gained unexpected attention by fans. Soon afterward, Tyfon Grammofon contacted Quorthon and asked him to record a full-length album. Although Venom's Black Metal, released in 1982, was the first record to coin the term, it was Bathory's early albums, featuring Satanic lyrics, low-fi production and an inhuman vocal style, that defined the genre. Many fans have speculated Venom was an influence on Bathory; however, Quorthon has said in an interview with Kick Ass magazine in 1985 he only heard of Venom after the first Bathory album was released. He also expressed dislike for many influential and popular heavy metal bands at the time, such as Iron Maiden and Judas Priest. He has also stated the band's early work was influenced primarily by Black Sabbath, Motorhead, and punk rock. Bathory's self-titled debut album, and the subsequent releases The Return and Under the Sign of the Black Mark, are now regarded as major influences on the Norwegian bands which extended black metal's musical progression and popularit in the beginning of the 1990s.
LP
1 Revelation Of Doom
2 Total Destruction
3 Born For Burning
4 The Wind Of Mayhem
5 Bestial Lust
6 Possessed
7 The Rite Of Darkness
8 Reap Of Evil
9 Son Of The Damned
10 Sadist
11 The Return Of The Darkness And Evil
12 Outro [from "the Return Of Darkness"]