Miles Davis: Kind Of Blue (180g)
Kind Of Blue (180g)
1 LP, 1 CD
LP (Long Play)
Die gute alte Vinyl - Langspielplatte.
CD (Compact Disc)
Herkömmliche CD, die mit allen CD-Playern und Computerlaufwerken, aber auch mit den meisten SACD- oder Multiplayern abspielbar ist.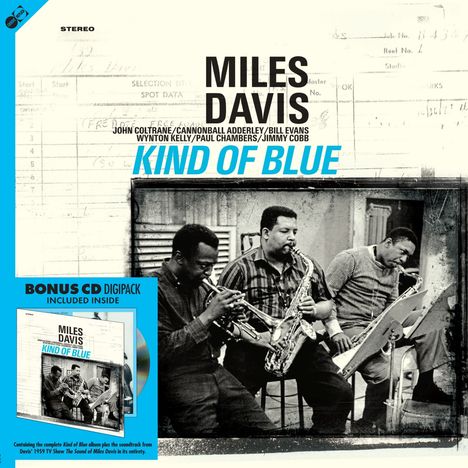 Nur noch 1 Stück am Lager. Danach versandfertig innerhalb 1-2 Wochen (soweit verfügbar beim Lieferanten)

Vinyl liefern wir innerhalb Deutschlands immer portofrei.
Label: Groove Replica, 1959
Bestellnummer:

9655995

Erscheinungstermin: 20.3.2020
+ John Coltrane, Cannonball Adderley, Bill Evans, Wynton kelly, Paul Chambers, Jimmy Cobb

* DMM - Direct Metal Mastering

*** Die CD enthält das Album "Kind of Blue" und den Soundtrack der 1959 TV-Show "The Sound Of Miles Davis.
Gesamtverkaufsrang: 20881
Verkaufsrang in LPs: 7175
Gesamtverkaufsrang: 20881
Verkaufsrang in LPs: 7175
Es ist so viel über Miles Davis' »Kind Of Blue« gesagt und geschrieben worden, dass es praktisch unmöglich ist, alle notwendigen Informationen auf die Länge dieser Abhandlungen zusammenzufassen. Wir könnten einfach einige Fakten auflisten (weltweit best verkauftes Jazz-Album aller Zeiten). Wir könnten versuchen, zu erklären, warum es das beste Jazz-Album aller Zeiten ist, aber die Musik selbst wird das für Sie tun. Wie Bill Evans in den ursprünglichen Liner Notes für die Platte sagte, hat die Band keines dieser Stücke vor der Aufnahme durchgespielt. Miles Davis legte die Themen fest, bevor das Band rollte, und die Band improvisierte. Das Endergebnis war zerbrechlich und wundersam. Aufgenommen während 2 Sessions im Jahr 1959, arbeitete »Kind of Blue« auf vielen verschiedenen Ebenen und wird dies noch viele Jahre lang tun.


Rezensionen
»This is a remarkable album.​ Using very simple but effective devices, Miles has constructed an album of extreme beauty and sensitivity.​ This is the soul of Miles Davis, and it's a beautiful soul.​« (Down Beat, Don De Micheal)
Die Hörproben gehören zum Artikel Miles Davis (1926-1991): Kind Of Blue (CD). Das Tracklisting kann bei diesem Artikel ggf. abweichen.
LP
1 So what
2 Freddie freeloader
3 Blue in green
4 All blues
5 Flamenco sketches