Tommy Flanagan (Jazz): Four Classic Albums
Four Classic Albums
2 CDs
CD (Compact Disc)
Herkömmliche CD, die mit allen CD-Playern und Computerlaufwerken, aber auch mit den meisten SACD- oder Multiplayern abspielbar ist.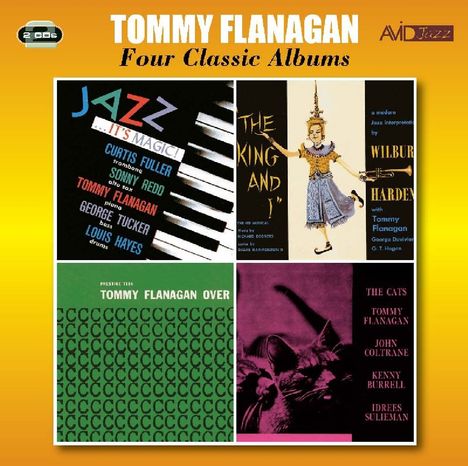 Lieferzeit beträgt mind. 4 Wochen
(soweit verfügbar beim Lieferanten)
Label: Avid
Bestellnummer:

2597753

Erscheinungstermin: 21.8.2014
*** digitally remastered
Vier klassische Tommy Flanagan Alben inkl. Original-LP Liner Notes auf einer digital remasterten Doppel-CD. Jazz It's Magic / The King And I / Trio Overseas / The Cats mit Curtis Fuller an der Posaune, Sonny Redd , George Tucker am Bass und Louis Hayes am Schlagzeug.
Disk 1 von 2 (CD)
1 Two Ton
2 Medley
3 Soul Station
4 Club Car
5 Upper Berth
6 Getting To Know You
7 My Lord And Master
8 Shall We Dance
9 We Kiss In A Shadow
10 I Have Dreamed
11 I Whistle A Happy Tune
12 Hello Young Lovers
13 Something Wonderful
14 Relaxin' At Camarillo
Disk 2 von 2 (CD)
1 Chelsea Bridge
2 Eclypso
3 Beats Up
4 Skal Brothers
5 Little Rock
6 Verdandi
7 Dalarna
8 Willow Weep For Me
9 Minor Mishap
10 How Long Has This Been Going On?
11 Eclypso
12 Solacium
13 Tommy's Time