Tal Farlow: Three Classic Albums Plus
Three Classic Albums Plus
2 CDs
CD (Compact Disc)
Herkömmliche CD, die mit allen CD-Playern und Computerlaufwerken, aber auch mit den meisten SACD- oder Multiplayern abspielbar ist.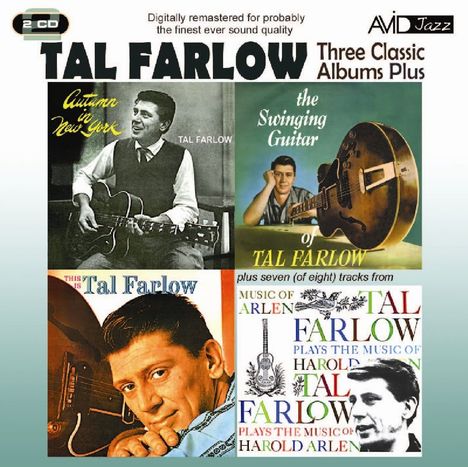 Lieferzeit beträgt mind. 4 Wochen
(soweit verfügbar beim Lieferanten)
Verlängerter Rückgabezeitraum bis 31. Januar 2024
Alle zur Rückgabe berechtigten Produkte, die zwischen dem 1. bis 31. Dezember 2023 gekauft wurden, können bis zum 31. Januar 2024 zurückgegeben werden.
Label: Avid, 1954-1959
Bestellnummer:

3605915

Erscheinungstermin: 6.5.2013
Weitere Ausgaben von Three Classic Albums Plus
*** digitally remastered
Drei klassische Tal Farlow Alben mit Bonusmaterial inklusive Original-LP Liner Notes auf einer remasterten Doppel-CD.

"Autumn In New York", "The Swinging Guitar of Tal Farlow", "This Is Tal Farlow" und "Tal Farlow Plays The Music Of Harold Arlen" feat. Eddie Costa, Vinnie Burke, Ray Brown, Chico Hamilton und viele andere mehr.


Product Information

Avid Jazz here presents three classic Tal Farlow albums plus including original LP liner notes on a finely re-mastered and low priced double CD.

"Autumn In New York", "The Swinging Guitar of Tal Farlow", "This Is Tal Farlow" and "Tal Farlow Plays The Music Of Harold Arlen".

From 1954 "Autumn In New York" features Tal on guitar with Gerry Wiggins on piano, Ray Brown on bass and Chico Hamilton on drums. Largely self- taught, Tal Farlow came up through the ranks with a reputation for speed! Inspired by the playing of Charlie Christian in the Goodman band, Farlow would go on to combine this unique speed with technique and become one of the great jazz guitar players of the era. On this set, apart from "Cherokee" taken at break neck speed, the rest is of a more restrained nature! "The Swinging Guitar of Tal Farlow" from 1956 features the trio of Farlow, up and coming pianist Eddie Costa on piano and the as yet unknown Vinnie Burke on bass. The trio played to unanimous praise in New York as attested to by critic Nat Hentoff in the original liner notes …………"one of the most gratifying trios to play New York in the past three years…………..continually inventive interplay……………….Farlow, ideas wise is like a swinging waterfall with a rare reserve resourcefulness of fresh conception"……………Nice! 1958's "This Is Tal Farlow" features Eddie Costa again on piano with Nabil Totah on bass and Jimmy Campbell on drums. The quartet forms a fine cohesive unit with Farlow and Costa making a solid and complimentary first line with Totah and Campbell ably supporting back up! For our final selection Tal journeys across the three phases of composer Harold Arlen's illustrious career for "Tal Farlow Plays The Music Of Harold Arlen". Firstly, Arlen as the night club composer writing revues for the Cotton Club, secondly as the great Broadway writer and thirdly and perhaps inevitably, as the Hollywood film composer. Joining Tal as the principal soloist is Frank Weiss on tenor sax! All three albums plus have been digitally re-mastered.
Disk 1 von 2 (CD)
1 I like to recognise the tune
2 Strike up the band
3 Autumn in New York
4 And she remembers me
5 Little girl blue
6 Have you met Miss Jones?
7 Tal's blues
8 Cherokee
9 Taking a chance on love
10 Yardbird suite
11 You stepped out of a dream
12 They can't take that away from me
13 Anything goes
14 Like someone in love
15 Meteor
16 Chuckles
Disk 2 von 2 (CD)
1 I love you
2 You don't know what love is
3 Lean on me
4 Wonder why
5 Night and day
6 Stella by starlight
7 The more I see you
8 All the things you are
9 How long has this been going on
10 Topsy
11 Blues in the night
12 Hit the road to dreamland
13 For every man there's a woman
14 As long as I live
15 Between the devil and the deep blue sea
16 Petticoat high
17 One step - two step