Quincy Jones: Four Classic Albums Plus
Four Classic Albums Plus
2 CDs
CD (Compact Disc)
Herkömmliche CD, die mit allen CD-Playern und Computerlaufwerken, aber auch mit den meisten SACD- oder Multiplayern abspielbar ist.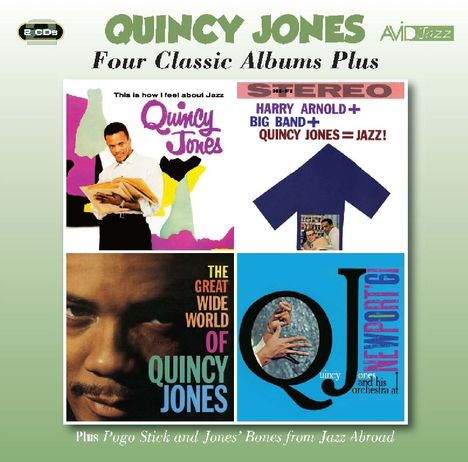 Lieferzeit beträgt mind. 4 Wochen
(soweit verfügbar beim Lieferanten)
Label: Avid, 1956-61
Bestellnummer:

3815274

Erscheinungstermin: 25.11.2013
Vier klassische Quincy Jones Alben plus Bonustracks mit den Original-LP Liner Notes auf einer remasterten Doppel-CD.
(This Is How I Feel About Jazz / Harry Arnold + Big Band + Quincy Jones = Jazz / The Great Wide World Of Quincy Jones / At Newport '61)

Mit Herbie Mann an Flöte und Tenorsaxophon, Art Farmer an der Trompete, Hank Jones am Piano, Phil Woods am Alt-Saxophon, Charles Mingus und Paul Chambers am Bass, sowie Lucky Thompson am Tenorsaxophon.
Disk 1 von 2 (CD)
1 Walkin'
2 A Sleepin' Bee
3 Sermonette
4 Stockholm Sweetnin'
5 Evening In Paris
6 Boo's Bloos
7 Quincy's Home Again
8 The Midnight Sun Never Sets
9 Cherokee
10 Count 'em
11 Brief Encounter
12 Room 308
13 Kinda Blues
14 Meet Benny Bailey
15 Doodlin'
16 Jones Bones from Jazz Abroad
Disk 2 von 2 (CD)
1 Lester Leaps In
2 Ghana
3 Caravan
4 Everybody's Blues
5 Cherokee
6 Air Mail Special
7 They Say It's Wonderful
8 Chant Of The Weed
9 I Never Has Seen Snow
10 Eesom
11 Meet BB
12 The Boy In The Tree
13 Evening In Paris
14 Air Mail Special
15 Lester Leaps In
16 G'Won Train
17 Banja Luka
18 Pogo Stick