Roma Agrawal: How Was That Built?
How Was That Built?
Buch
The Stories Behind Awesome Structures
Illustration: Katie Hickey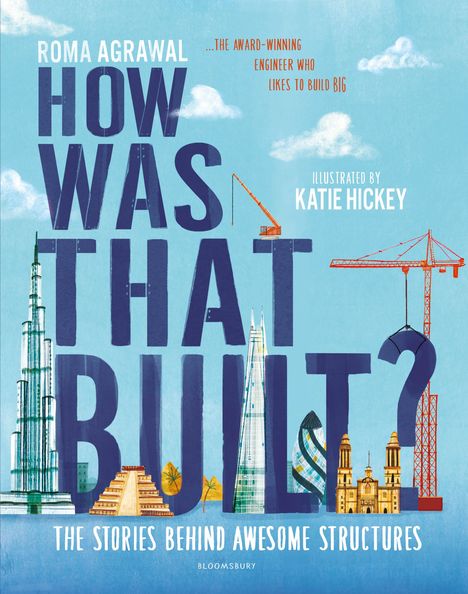 Bloomsbury UK, 09/2021
Einband: Gebunden, Hardback
Sprache: Englisch
ISBN-13:

9781526603654

Bestellnummer: 10442270
Umfang: 80 Seiten
Gewicht: 823 g
Maße: 313 x 248 mm
Stärke: 15 mm
Erscheinungstermin: 16.9.2021

Achtung: Artikel ist nicht in deutscher Sprache!
Klappentext
'From the construction of the Brooklyn Bridge to building on the moon, this utterly fascinating and visually stunning book is sure to build sky-scraping curiosity in young engineers' Kate Pankhurst, author of the Fantastically Great Women series

Join Roma Agrawal, the award-winning structural engineer who worked on The Shard, for an exciting behind-the-scenes look at some of the world's most amazing landmarks.

Meet the extraordinary people who challenged our beliefs about what's possible, pioneering remarkable inventions that helped build the Brooklyn Bridge in the US, the Pantheon in Italy, the Burj Khalifa in Dubai, the Shard in England and the Sapporo Dome in Japan. Discover the ingenious methods engineers have come up with to enable us to build underground, underwater, on ice and even in space. And learn about the impact different forces and materials can have on a structure by carrying out your own engineering experiments from the 'Try it at Home' sections.

Beautiful and detailed illustrations by Katie Hickey, including cross-sections, skylines and close-ups of engineering techniques in action, provide unique and illuminating perspectives of our most awe-inspiring constructions.

Get ready to see the built world around you like never before!

'Exploring this beautiful book feels like having a conversation with Roma, full of expert insight and fascinating detail. With playful illustrations, stacks of brand-new information and plenty of context - this is children's non-fiction at its best' Isabel Thomas, science writer and author of Moth and Fox

'Skilfully illustrated and filled with remarkable details, this book is a treat for any young engineer. Roma's breadth of knowledge and genuine passion shines through every page. It's simply beautiful' Angela Saini, science journalist and author

'Open this book at any page and you are immediately sucked into the fascination of how things work - a wonderful achievement and a beautiful one too' Mark Miodownik, materials engineer, broadcaster and author of Stuff Matters

'How Was That Built? is a brilliant and essential book . Hopefully schools and libraries will purchase the book in big numbers because it deserves to be widely read and discussed. I also think it will do a lot to encourage young people to consider a career in construction' Infrastructure-Intelligence. com