Rachel Joyce: Maureen Fry and the Angel of the North
Maureen Fry and the Angel of the North
Buch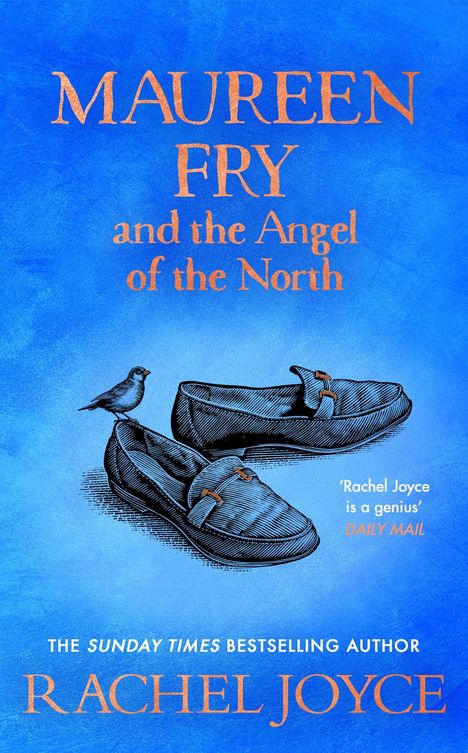 versandfertig innerhalb von 1-3 Tagen
(soweit verfügbar beim Lieferanten)
Transworld Publ. Ltd UK, 10/2022
Einband: Gebunden
Sprache: Englisch
ISBN-13:

9780857529008

Bestellnummer: 10850945
Umfang: 144 Seiten
Sonstiges: chapter heads with line drawings
Gewicht: 400 g
Maße: 222 x 138 mm
Stärke: 25 mm
Erscheinungstermin: 20.10.2022

Achtung: Artikel ist nicht in deutscher Sprache!
Weitere Ausgaben von Maureen Fry and the Angel of the North
Klappentext
'Short but very special. ... funny, touching and quite beautiful.' Matt Cain
'A powerful finale to her classic trilogy of heartbreak and healing.' Clare Chambers
'An unforgettable story. It's beautiful all through, but the closing chapters are just astonishing, transcendent and hope-filled and life-affirming.' Donal Ryan
'Just brilliant' Patrick Gale
......................................................................................................................................

Ten years ago, Harold Fry set off on his epic journey on foot to save a friend. But the story doesn't end there.
Now his wife, Maureen, has her own pilgrimage to make.
Maureen Fry has settled into the quiet life she now shares with her husband Harold after his iconic walk across England. Now, ten years later, an unexpected message from the North disturbs her equilibrium again, and this time it is Maureen's turn to make her own journey.

But Maureen is not like Harold. She struggles to bond with strangers, and the landscape she crosses has changed radically. She has little sense of what she'll find at the end of the road. All she knows is that she must get there.

Maureen Fry and the Angel of the North is a deeply felt, lyrical and powerful novel, full of warmth and kindness, about love, loss, and how we come to terms with the past in order to understand ourselves and our lives a little better. Short, exquisite, while it stands in its own right, it is also the moving finale to a trilogy that began with the phenomenal bestseller The Unlikely Pilgrimage of Harold Fry and continued with The Love Song of Miss Queenie Hennessy.

This is a slender book but it has all the power and weight of a classic.
Biografie
Rachel Joyce hat über 20 Original-Hörspiele für die BBC verfasst und wurde dafür mehrfach ausgezeichnet. Daneben hat sie Stoffe fürs Fernsehen bearbeitet und auch selbst als Schauspielerin für Theater und Film gearbeitet. Rachel Joyce lebt mit ihrem Mann und ihren vier Kindern in Gloucestershire auf dem Land.
Mehr von Rachel Joyce