Paul Crichton: The Turning Tide
The Turning Tide
Buch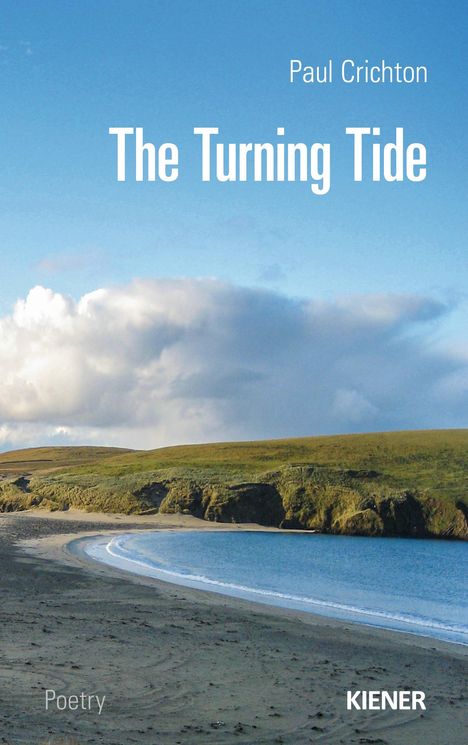 versandfertig innerhalb von 1-3 Tagen
(soweit verfügbar beim Lieferanten)
KIENER Verlag, 09/2022
Sprache: Englisch
ISBN-13:

9783948442385

Bestellnummer: 11036706
Umfang: 60 Seiten
Gewicht: 179 g
Maße: 216 x 136 mm
Stärke: 10 mm
Erscheinungstermin: 15.9.2022

Achtung: Artikel ist nicht in deutscher Sprache!
Klappentext
This collection of poems ranges widely in time and space from Homer's Odyssey, to the Fire of Rome in 64 CE, during the reign of Nero, and then on to the 16th century low Countries, 19th century Russia and into the future. There is a wide range of voices (the pompous wine-critic, the cool teenager, the narcissistic male, the ecstatic patriot) and subject matter (history, politics, philosophy, personality types, fine arts, music).
Biografie
Paul Crichton MA (Oxon), MD (Munich), FRCPsych, PhD (London). Dr. Crichton is a Consultant Psychiatrist working for the Ministry of Justice in London. His first degree was in Classical Studies (Latin, Greek, Ancient History and Philosophy) at Oxford University. - is medical training was at the Ludwigs-Maximilians-Universität in Munich. He worked for two years in neurology, at the Klinikum Großhadern in Munich and the National Hospital for Neurology and Neurosurgery, Queen Square, London, before doing his psychiatric training, first at Charing Cross Hospital and then at the Maudsley Hospital in London. He worked as a Consultant Psychiatrist in General Adult Psychiatry at Guys Hospital in London and then as Head of the Department of Psychological Medicine at the Royal Marsden Hospital, doing liaison psychiatry and cognitive behavioural therapy with people with cancer. He now sits on Mental Health Review Tribunals in London for the Ministry of Justice. - In 2003 he completed a BA and then in 2010 a PhD in philosophy at Birkbeck College, University of London. His PhD was entitled Self-Realization An Exploration and his supervisors were Prof. Miranda Fricker and Prof. Susan James. - His main interests lie in the borderline areas between psychiatry, psychology and philosophy, including, for example, psychotic phenomena, rationality and cognitive distortions, the mind-body problem, autonomy, social justice and political freedom, the social identity of individuals, ethical and non-ethical values, and self-realization. The thinkers who have most inspired him include Aristotle, Plato, Hume, Kant, Hegel, Wittgenstein, Rawls, Freud, Kahneman, Williams, Taylor, Nussbaum and Frankfurt
Anmerkungen:
Bitte beachten Sie, dass auch wir der Preisbindung unterliegen und kurzfristige Preiserhöhungen oder -senkungen an Sie weitergeben müssen.