Nicci French: The Unheard
The Unheard
Buch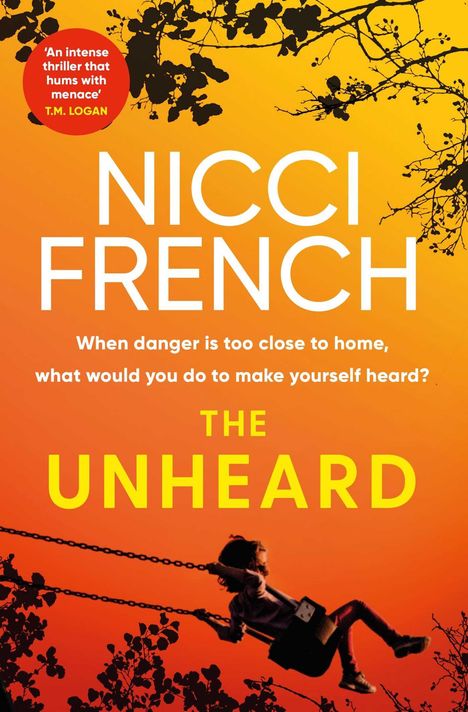 Simon + Schuster UK, 02/2022
Einband: Kartoniert / Broschiert
Sprache: Englisch
ISBN-13:

9781398514478

Bestellnummer: 10699170
Umfang: 452 Seiten
Gewicht: 260 g
Maße: 178 x 111 mm
Stärke: 28 mm
Erscheinungstermin: 15.2.2022

Achtung: Artikel ist nicht in deutscher Sprache!
Weitere Ausgaben von The Unheard
Klappentext
THE NEW THRILLER FROM THE MASTER OF PSYCHOLOGICAL SUSPENSE

'He did kill. Kill and kill and kill.'

Tess's number one priority has always been her three-year-old daughter Poppy. But splitting up with Poppy's father Jason means that she cannot always be there to keep her daughter safe.

When she finds a disturbing drawing, dark and menacing, among her daughter's brightly coloured paintings, Tess is convinced that Poppy has witnessed something terrible. Something that her young mind is struggling to put into words.

But no one will listen. It's only a child's drawing, isn't it?

Tess will protect Poppy, whatever the price. But when she doesn't know what, or who, she is protecting her from, how can she possibly know who to trust . . . ?

'What an intriguing, compelling page-turner. I ate it up in two days' Liz Nugent, author of Our Little Cruelties

'I love Nicci French's books, and with The Unheard they are right at the top of their game. Few crime writers can match their psychological acuity, of their ability to lead a reader through dizzying plot twists without ever losing pace. It's an absolute masterclass of crime writing' Kate Rhodes, author of the Locked-Island Mystery series

Praise for Nicci French:

'Confirms Nicci French as the giant of the genre' Erin Kelly
'Part ingenious locked-room mystery. Part you've-got-the-wrong-person nightmare drama. Part intricate memory game. Yet all seamlessly woven together. French's best book yet' A J Finn
'Expertly paced, psychologically sharp, thoroughly enjoyable' Louise Candlish
'Meticulously plotted, psychologically astute' Sarah Vaughan
'Great writing, razor-sharp plotting, and powerful characterisation. I was 100 pages in before I even drew breath, and I defy anyone to see the ending coming' Cara Hunter
'It's Nicci French perfection - which, as we all know, is the best kind of perfection. So, so gripping and brilliantly clued' Sophie Hannah
'A novel that blissfully plays with two genres: on the one hand an against-the-odds legal thriller à la John Grisham… and on the other a Miss Marple whodunnit' Sunday Times
'Nicci French husband-and-wife writing team responsible for some of the UK's best psychological thrillers have created a gem of a protagonist in Tabitha' Observer
'First-class' Independent
'Gripping' Literary Review
'Gritty and moving - the husband-and-wife team have scored another hit' Best
'A twisty and shocking read' Bella
'Engrossing' Good Housekeeping
Biografie
Hinter dem Namen Nicci French verbirgt sich das Ehepaar Nicci Gerrard und Sean French. Seit langem sorgen sie mit ihren Spannungsromanen für Furore. Sie leben mit ihren Kindern in der Nähe von London.