Neeta Lakhani (University Hospitals of Leicester NHS Trust, Leicester, UK): Clinical Genetics and Genomics at a Glance
Clinical Genetics and Genomics at a Glance
Buch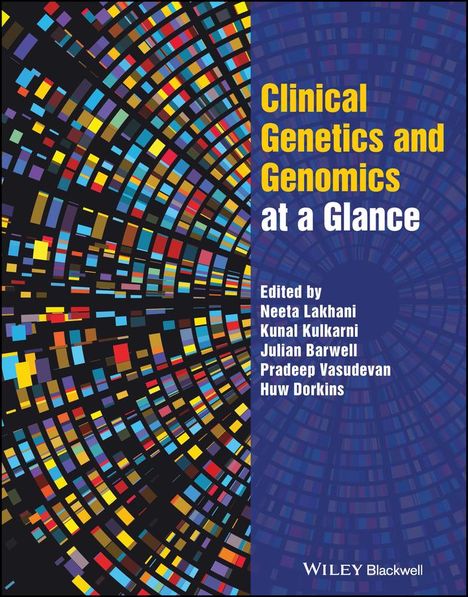 Lieferzeit beträgt mind. 4 Wochen
(soweit verfügbar beim Lieferanten)
John Wiley and Sons Ltd, 09/2023
Einband: Kartoniert / Broschiert
Sprache: Englisch
ISBN-13:

9781119240952

Bestellnummer: 10985801
Umfang: 272 Seiten
Gewicht: 748 g
Maße: 272 x 216 mm
Stärke: 18 mm
Erscheinungstermin: 28.9.2023
Serie: At a Glance

Achtung: Artikel ist nicht in deutscher Sprache!
Klappentext
Comprehensive and accessible overview of genetics in clinical practice with a unique systems-based approach

Clinical Genetics and Genomics at a Glance combines the clinical and scientific facets of a complex subject in a way that is both accessible and succinct to facilitate the diagnosis, treatment, and management of common genetic conditions.

Using the popular "at a Glance" format, this book enables the reader to gain a solid understanding of the practical applications of clinical genetics in different systems. Covering a wide range of topics, this book is perfect for an introduction on the subject texts or for revision purposes and are useful throughout medical school and beyond.

Clinical Genetics and Genomics at a Glance uses a systemic approach following all the systems in the body:
* General topics such as inheritance, cytogenetic and molecular genetic techniques, how to read a genetic test report, and genetic counselling
* Chapters on key conditions with a genetic basis, organised by body systems, for example:
* Cardiology topics such as congenital heart disease, ischaemic heart disease, cardiomyopathies, arrhythmias, and sudden cardiac death
* Dermatology topics such as tuberous sclerosis, Gorlin syndrome, Darier disease, lamellar ichthyosis, mal de meleda, cutaneous porphyria, and epidermolysis bullosa
* Endocrinology topics such as adrenal gland conditions, androgen insensitivity syndrome, ambiguous sex syndromes, anorchism, Klinefelter syndrome, Turner syndrome, and diabetes mellitus

Clinical Genetics and Genomics at a Glance is a helpful learning aid that can be used at various stages of medical training to gain an understanding of the aspects of clinical genetics and the fundamentals behind the specialty. The text also functions as a useful on-ward reference tool for practitioners of all experience levels.