Monica Aldama: Full Out: Lessons in Life and Leadership from America's Favorite Coach
Full Out: Lessons in Life and Leadership from America's Favorite Coach
Buch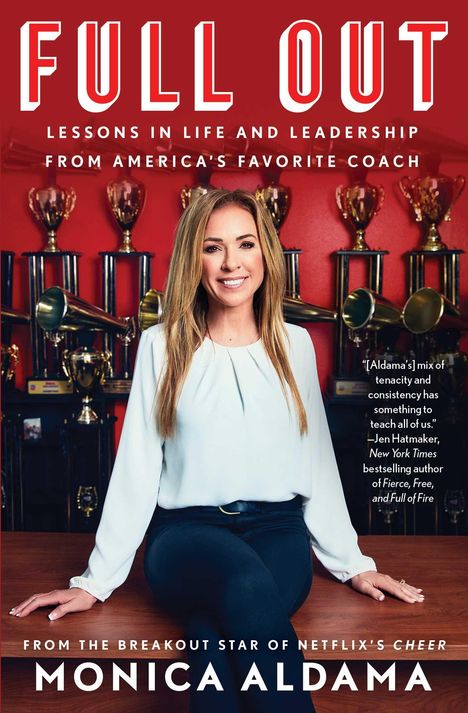 Lieferzeit beträgt mind. 4 Wochen
(soweit verfügbar beim Lieferanten)
GALLERY BOOKS, 01/2023
Einband: Kartoniert / Broschiert
Sprache: Englisch
ISBN-13:

9781982165925

Bestellnummer: 10986920
Umfang: 256 Seiten
Gewicht: 204 g
Maße: 213 x 140 mm
Stärke: 16 mm
Erscheinungstermin: 17.1.2023

Achtung: Artikel ist nicht in deutscher Sprache!
Weitere Ausgaben von Full Out: Lessons in Life and Leadership from America's Favorite Coach
Klappentext
From the breakout star of Netflix's Cheer, this motivational guide "will inspire you to aim high and succeed no matter what 'getting on mat' means in your life" (Gabi Butler, two-time national cheerleading champion and star of Cheer).

In Full Out, "the Bill Belichick of cheerleading" (The Cut) Coach Monica Aldama shares how she built one of the most successful and beloved cheerleading programs in the country. Her uncompromising brand of discipline and consistency goes far beyond the mat—showing how the principles of building a winning team apply to personal goals, the corporate world, parenting, and all aspects of life.

There's a lot of talk these days about shortcuts and life hacks, but what really counts is commitment and integrity, helping your friends, and improving with your teammates. Coach Monica shares deeply personal stories of triumph and tragedy—from divorce and remarriage to her husband, her challenges as a young mother working more than full time, and her strenuous weeks on Dancing with the Stars. She shares surprising behind-the-scenes moments from the Cheer docuseries, and insights gleaned from more than two decades of pushing students to succeed. A true force and inspiration who has captured hearts around the world, Coach Monica "delivers the kind of down-to-earth advice we need to be fearless, make excellence a habit, and to bet on ourselves" (Whitney Cummings, comedian and author of I'm Fine… And Other Lies).
Mehr von Monica Aldama