Mary Kay Andrews: The High Tide Club
The High Tide Club
Buch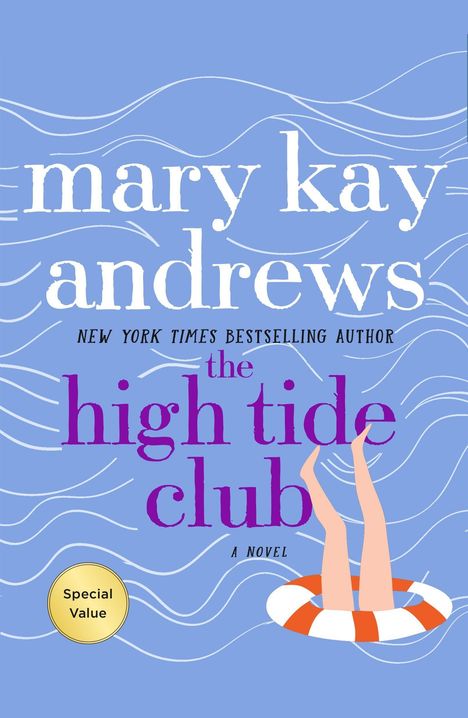 Lieferzeit beträgt mind. 4 Wochen
(soweit verfügbar beim Lieferanten)
St. Martin's Publishing Group, 08/2023
Einband: Kartoniert / Broschiert
Sprache: Englisch
ISBN-13:

9781250897879

Bestellnummer: 11039504
Umfang: 496 Seiten
Gewicht: 454 g
Maße: 210 x 137 mm
Stärke: 25 mm
Erscheinungstermin: 21.8.2023

Achtung: Artikel ist nicht in deutscher Sprache!
Weitere Ausgaben von The High Tide Club
Klappentext
An instant New York Times bestseller (May 2018) from the author of The Weekenders - a delightful new novel about new love, old secrets, and the kind of friendship that transcends generations.

Eccentric heiress Josephine Warrick is a notorious recluse - reigning over a crumbling pink mansion on a private island, she is rarely seen but often whispered about. So when Brooke Trappnell, a struggling young lawyer, is summoned to the island, she has no idea what's in store. As she listens to Josephine recount a story of old friendship, dark secrets, and a mysterious murder, it becomes clear that Brooke is there for two reasons: to help protect Josephine's beloved island, and to make amends with her old friends, the skinny-dipping, secret-keeping girls of the The High Tide Club.

To fulfill a dying woman's last wish, Brooke must track down the descendants of Josephine's closest friends and bring them together for a reunion of women who've never actually met. But in doing so, Brooke uncovers a scandal that could make someone rich beyond their wildest dreams...or cause them to be in the crosshairs of a murderer.

The High Tide Club is Mary Kay Andrews at her very best - a compelling story steeped in mystery, fierce friendship, love lost and possibly...love found.

Praise for The High Tide Club:

"Andrews creates a story that is at turns suspenseful, sad, and hopeful, with plenty of surprising twists. Her dialogue is natural and funny, and even her minor characters are fully drawn with unique voices...Another satisfying summer read from the queen of the beach." -Kirkus

"A compelling novel about the people and places that shape a life and the secrets that create ripples for generations. With a unique setting, mysterious flashbacks, romance, and a surprising twist, this book will not disappoint readers looking for a juicy escape." -Booklist

"Andrews has crafted a smart and wonderful beach read with a lot of rich Southern and historical details." -RT Book Reviews

"Nothing says the start of summer like a new book from Mary Kay Andrews...An irresistible story of love, friendship, and skinny-dipping." -PopSugar, Best New Books for Spring

A Southern Living Beach Books recommended read!
Biografie
Mary Kay Andrews wuchs in Florida auf, studierte in Georgia Journalismus und arbeitete dann einige Jahre als Redakteurin. Inzwischen hat sie mehrere Romane veröffentlicht und unterrichtet Kreatives Schreiben. Mary Kay Andrews lebt mit ihrer Familie in Atlanta, aber im Sommer zieht es sie zu ihrem liebevoll restaurierten Ferienhaus auf Tybee Island, eine wunderschöne Insel vor der Küste Georgias, USA.