Lucy Adlington: The Dressmakers of Auschwitz
The Dressmakers of Auschwitz
Buch
The True Story of the Women Who Sewed to Survive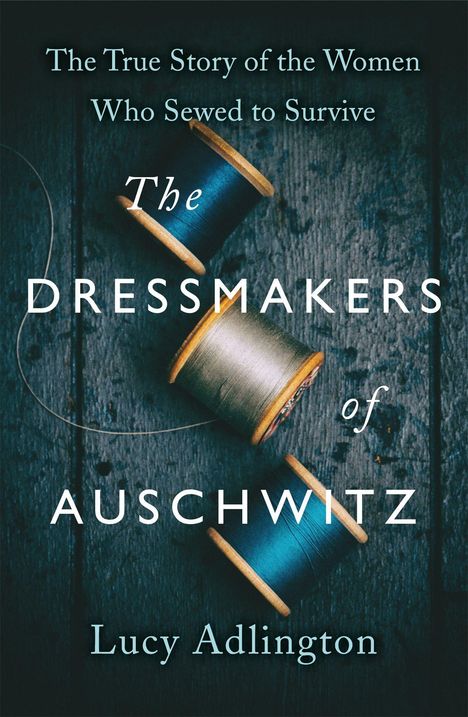 Hodder And Stoughton Ltd., 09/2021
Einband: Kartoniert / Broschiert
Sprache: Englisch
ISBN-13:

9781529311976

Bestellnummer: 10676156
Umfang: 381 Seiten
Gewicht: 494 g
Maße: 232 x 151 mm
Stärke: 30 mm
Erscheinungstermin: 2.9.2021

Achtung: Artikel ist nicht in deutscher Sprache!
Weitere Ausgaben von The Dressmakers of Auschwitz
Klappentext
'Lucy Adlington tells of the horrors of the Nazi occupation and the concentration camps from a fascinating and original angle. She introduces us to a little known aspect of the period, highlighting the role of clothes in the grimmest of societies imaginable and giving an insight into the women who stayed alive by stitching' - Alexandra Shulman, author of Clothes...and other things that matter

'An utterly absorbing, important and unique historical read' - Judy Batalion, NY Times bestselling author of The Light of Our Days: The Untold Story of Women Resistance Fighters in Hitler's Ghettos

The powerful chronicle of the women who used their sewing skills to survive the Holocaust, stitching beautiful clothes at an extraordinary fashion workshop created within one of the most notorious WWII death camps.

At the height of the Holocaust twenty-five young inmates of the infamous Auschwitz-Birkenau concentration camp - mainly Jewish women and girls - were selected to design, cut, and sew beautiful fashions for elite Nazi women in a dedicated salon. It was work that they hoped would spare them from the gas chambers.

This fashion workshop - called the Upper Tailoring Studio - was established by Hedwig Höss, the camp commandant's wife, and patronized by the wives of SS guards and officers. Here, the dressmakers produced high-quality garments for SS social functions in Auschwitz, and for ladies from Nazi Berlin's upper crust.

Drawing on diverse sources - including interviews with the last surviving seamstress - The Dressmakers of Auschwitz follows the fates of these brave women. Their bonds of family and friendship not only helped them endure persecution, but also to play their part in camp resistance. Weaving the dressmakers' remarkable experiences within the context of Nazi policies for plunder and exploitation, historian Lucy Adlington exposes the greed, cruelty, and hypocrisy of the Third Reich and offers a fresh look at a little-known chapter of World War II and the Holocaust.
Mehr von Lucy Adlington