Jojo Moyes: The Last Letter from Your Lover. Movie Tie-In
The Last Letter from Your Lover. Movie Tie-In
Buch
Now a major motion picture starring Felicity Jones and Shailene Woodley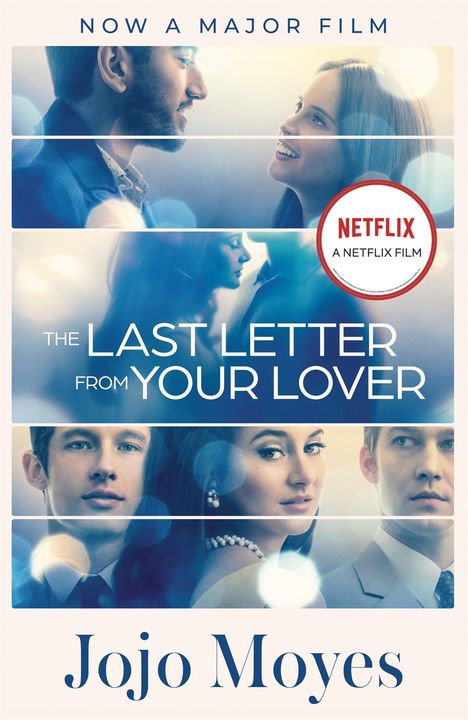 Hodder And Stoughton Ltd., 07/2021
Einband: Kartoniert / Broschiert
Sprache: Englisch
ISBN-13:

9781529364743

Bestellnummer: 10464565
Umfang: 489 Seiten
Gewicht: 356 g
Maße: 195 x 127 mm
Stärke: 35 mm
Erscheinungstermin: 8.7.2021

Achtung: Artikel ist nicht in deutscher Sprache!
Klappentext
Spanning forty years, two women's stories of love, loss and betrayal are intertwined in this award-winning novel by Jojo Moyes, the Sunday Times bestselling author of Me Before You, After You and the new 2023 novel Someone Else's Shoes.

**NOW A MAJOR MOTION PICTURE AVAILABLE ON DVD**

****

'Beautifully written . . . an exquisite tale of love lost, love found and the power of letter writing.' - Sunday Express

When journalist Ellie looks through her newspaper's archives for a story, she doesn't think she'll find anything of interest. Instead she discovers a letter from 1960, written by a man asking his lover to leave her husband - and Ellie is caught up in the intrigue of a past love affair. Despite, or perhaps because of her own romantic entanglements with a married man . . .

In 1960, Jennifer wakes up in hospital after a car accident. She can't remember anything - her husband, her friends, who she used to be. And then, when she returns home, she uncovers a hidden letter, and begins to remember the lover she was willing to risk everything for.

Ellie and Jennifer's stories of passion, adultery and loss are wound together in this richly emotive novel - interspersed with real 'last letters'.

****

'Fabulous, emotional and evocative' - Sophie Kinsella

'Totally un-put-downable' - Stylist

'Top-class' - Woman & Home

'Incredibly moving' - Marie Claire

'Epic, romantic and utterly brilliant' - Lisa Jewell

'Jojo Moyes is a brilliant writer' - India Knight

'Just perfect' - Jenny Colgan
Biografie
Jojo Moyes, geboren 1969, hat Journalistik studiert und für die «Sunday Morning Post» in Hongkong und den «Independent» in London gearbeitet. Der Roman «Ein ganzes halbes Jahr» machte sie international zur Bestsellerautorin. Zahlreiche weitere Nr. 1-Bestseller folgten. Jojo Moyes lebt mit ihrem Mann und ihren drei Kindern auf dem Land in Essex.