Jim Dine: A Beautiful Day
A Beautiful Day
Buch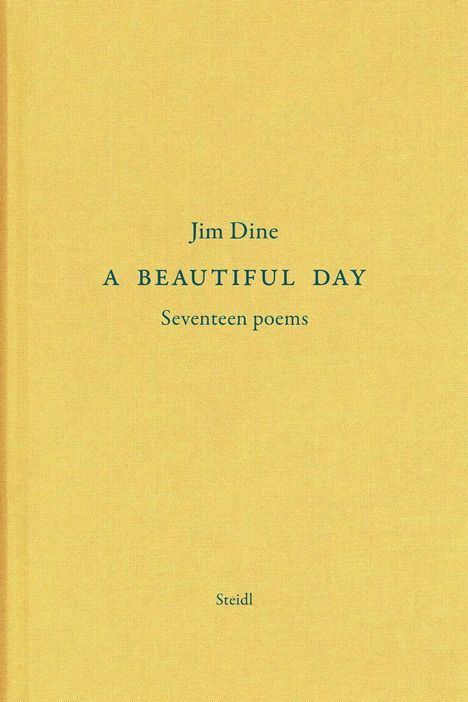 Steidl GmbH & Co.OHG, 06/2022
Einband: Leinen
Sprache: Englisch
ISBN-13:

9783958298910

Bestellnummer: 10411764
Umfang: 48 Seiten
Gewicht: 145 g
Maße: 185 x 123 mm
Stärke: 12 mm
Erscheinungstermin: 30.6.2022

Achtung: Artikel ist nicht in deutscher Sprache!
Klappentext
Jim Dine's poems are the voices between his paintings, the questions between his drawings, the whispers and shouts between his sculptures: an unceasing, probing flow that augments and energizes his visual work. Dine writes through a process of collage, arranging and re-arranging fragments as they come to him, noting them on scraps of paper, on the studio wall, even (a favorite medium) on the sick bags of airplanes.
A Beautiful Day presents 16 poems; some are recent pieces written during the intensity of corona quarantine, others are older creations he has now rediscovered and re-shaped, as a sculptor returns to a work after many years with a fresh eye and hand. As always, Dine's poetry is densely autobiographical and grapples with the polarities of experience: with delight and melancholy, with criticism and celebration, with nostalgia ("Childhood mood / The soul / complete and elegant / Constructed of wishes / And clouds"), rage ("I ran into him at the airport, / 'I hope you die a miserable death / You fat fascist fuck'"), and, inevitably, the passing of time: "The magic falls, / Years go by, / Hitting the window / They get used up."
Biografie
Born in 1935 in Cincinnati, Ohio, Jim Dine completed a Bachelor of Fine Arts at Ohio University in 1957 and has since become one of the most profound and prolific contemporary artists. Dine s unparalleled career spans fifty years, and his work is held in numerous private and public collections.
Anmerkungen:
Bitte beachten Sie, dass auch wir der Preisbindung unterliegen und kurzfristige Preiserhöhungen oder -senkungen an Sie weitergeben müssen.