Isabel Allende: The Soul of a Woman
The Soul of a Woman
Buch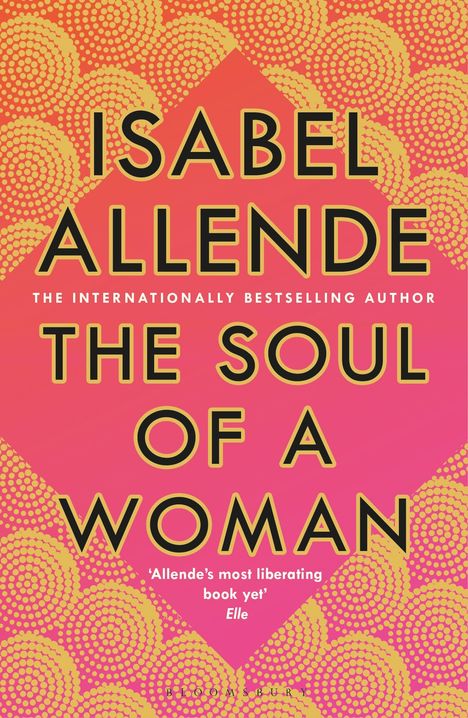 Bloomsbury UK, 02/2023
Einband: Kartoniert / Broschiert, Paperback
Sprache: Englisch
ISBN-13:

9781526630827

Bestellnummer: 10981483
Umfang: 192 Seiten
Gewicht: 138 g
Maße: 196 x 126 mm
Stärke: 13 mm
Erscheinungstermin: 16.2.2023

Achtung: Artikel ist nicht in deutscher Sprache!
Weitere Ausgaben von The Soul of a Woman
Klappentext
_______________

'An autobiographical meditation on feminism, power and womanhood . Full of Isabel's wisdom and warm words' - Grazia

'In her small, potent polemic . . . Isabel Allende writes about the toxic effects of "machismo", combining wit with anger as she picks apart the patriarchy' - Independent

'Allende has everything it takes: the ear, the eye, the mind, the heart, the all-encompassing humanity' - New York Times

An Independent, Guardian and Grazia Highlight for 2021
_______________

The wise, warm, defiant new book from literary legend Isabel Allende - a meditation on power, feminism and what it means to be a woman

When I say that I was a feminist in kindergarten, I am not exaggerating.

As a child, Isabel Allende watched her mother, abandoned by her husband, provide for her three small children. As a young woman coming of age in the late 1960s, she rode the first wave of feminism. She has seen what has been accomplished by the movement in the course of her lifetime. And over the course of three marriages, she has learned how to grow as a woman while having a partner, when to step away, and the rewards of embracing one's sexuality.

So what do women want? To be safe, to be valued, to live in peace, to have their own resources, to be connected, to have control over their bodies and lives, and above all, to be loved. On all these fronts, there is much work to be done, and this book, Allende hopes, will 'light the torch of our daughters and granddaughters with mine. They will have to live for us, as we lived for our mothers, and carry on with the work still left to be finished.'
_______________

'Her thoughts, language and ideas traverse fluidly through ideas of gender, historic injustices, her marriages and bodily experiences and literary references . . . Allende's love for women is palpable' - Sydney Morning Herald
Biografie
Isabel Allende was born in Peru and raised in Chile. She is the author of novels and novels for young readers.