DK: Find My Favourite Things Dinosaurs
Find My Favourite Things Dinosaurs
Buch
Search and Find! Follow the Characters on Their Dinosaur Adventure!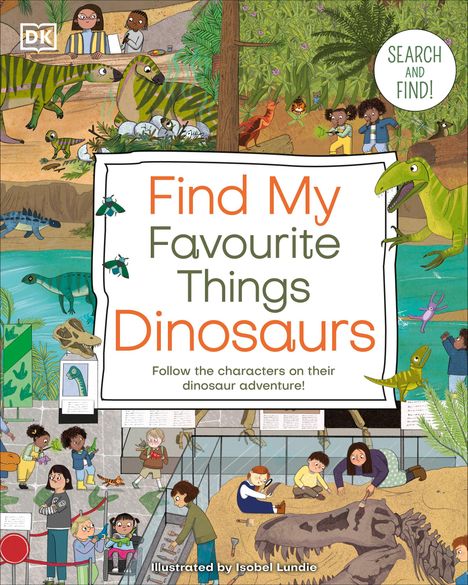 Artikel noch nicht erschienen, voraussichtlicher Liefertermin ist der 1.2.2024.
Sie können den Titel schon jetzt bestellen. Versand an Sie erfolgt gleich nach Verfügbarkeit.
Dorling Kindersley Ltd, 02/2024
Einband: Pappe
Sprache: Englisch
ISBN-13:

9780241643051

Bestellnummer: 11502887
Umfang: 16 Seiten
Erscheinungstermin: 1.2.2024
Serie: DK Find My Favourite

Achtung: Artikel ist nicht in deutscher Sprache!
Klappentext
Take an imaginative I-spy journey - travel back to ancient dinosaur worlds, spot and count things in busy scenes, and search for fun characters on every page.

Young learners will love joining a class of children on a dinosaur adventure in this seek-and-find board book. The adventure starts in a museum, where there are amazing exhibits to spot, including a T. rex skeleton, dinosaur egg fossils, and a model of three-horned Triceratops. Then a magic door whisks the children back in time, and they find themselves in Jurassic and Cretaceous worlds. Here young readers discover favourite dinosaurs such as plated Stegosaurus and mighty Neovenator, and they search for things in the scenes, including prehistoric insects, pterosaurs, hatching dinosaurs, and dinosaur poo!

Young learners can also spot Purple Rabbit, who is hiding in every scene, as well as the school children, who each have entertaining characteristics. For instance, Ali paints dinosaur pictures and Luna climbs the prehistoric plants!

With so many things to point to, name, and talk about, as well as pronunciation guides for the dinosaur names, this is the perfect interactive book to share with pre-readers or beginner readers. Children can follow the characters from page to page and use their imaginations to tell their own stories.