Ben Aaronovitch: Whispers Under Ground
Whispers Under Ground
Buch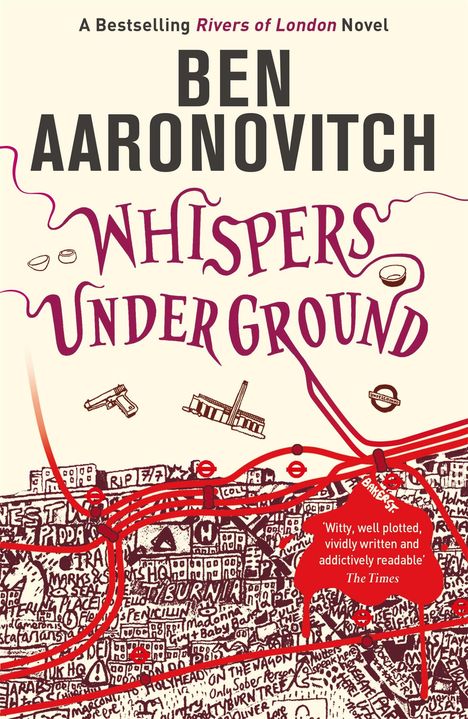 versandfertig innerhalb von 1-3 Tagen
(soweit verfügbar beim Lieferanten)
Orion Publishing Group, 10/2012
Einband: Kartoniert / Broschiert, ,
Sprache: Englisch
ISBN-13:

9780575097667

Bestellnummer: 2903655
Umfang: 432 Seiten
Copyright-Jahr: 2012
Gewicht: 304 g
Maße: 195 x 128 mm
Stärke: 32 mm
Erscheinungstermin: 4.10.2012

Achtung: Artikel ist nicht in deutscher Sprache!
Weitere Ausgaben von Whispers Under Ground
Kurzbeschreibung
Doctor Who Screenwriter Ben Aaronovitch's superbly entertaining supernatural crime series has, with its witty one-liners and wonderfully erudite take on London, won a legion of fans in double quick time. Peter Grant is learning magic fast. And its just as well - he's already had run ins with the deadly supernatural children of the Thames and a terrifying killer in Soho.

Progression in the Police Force is less easy. Especially when you work in a department of two. A department that doesn't even officially exist.

A department that if you did describe it to most people would get you laughed at. And then there's his love life. The last person he fell for ended up seriously dead.

It wasn't his fault, but still. Now something horrible is happening in the labyrinth of tunnels that make up the tube system that honeycombs the ancient foundations of London. And delays on the Northern line is the very least of it.

Time to call in the Met's Economic and Specialist Crime Unit 9, aka 'The Folly'. Time to call in PC Peter Grant, Britains Last Wizard.
Klappentext
Come Monday I get to do some proper policing. Person Unknown has been stabbed to death on the tracks at Baker Street tube. Magic may have been involved. And sure enough, in the blood; vestigia, the tell-tale trail magic leaves.

Person Unknown turns out to be the son of a US senator and before you can say 'International incident', FBI agent Kimberley Reynolds and her firmly held religious beliefs are on my case.

And down in the dark, in the tunnels of London's Underground, the buried rivers, the Victorian sewers, I'm hearing whispers of ancient arts and tortured, vengeful spirits . . .

Praise for Ben Aaronovitch's DC Peter Grant novels

'Fresh and original and a wonderful read. I loved it' Charlaine Harris, Sunday Times No. 1 bestselling author

'A hilarious and keenly imagined caper' Diana Gabaldon, Sunday Times bestselling author

'Consummate. Filled with detail and imagination, the quality of this achievement stands out, making Aaronovitch a name to watch' Peter F. Hamilton, Sunday Times bestselling author

www. the-folly. com
Biografie
Ben Aaronovitch wurde in London geboren und lebt auch heute noch dort. Er arbeitet als Buchhändler, wenn er gerade keine Romane oder Fernsehdrehbücher schreibt (er hat u. a. Drehbücher zu der englischen Kult-TV-Serie "Doctor Who" verfasst).