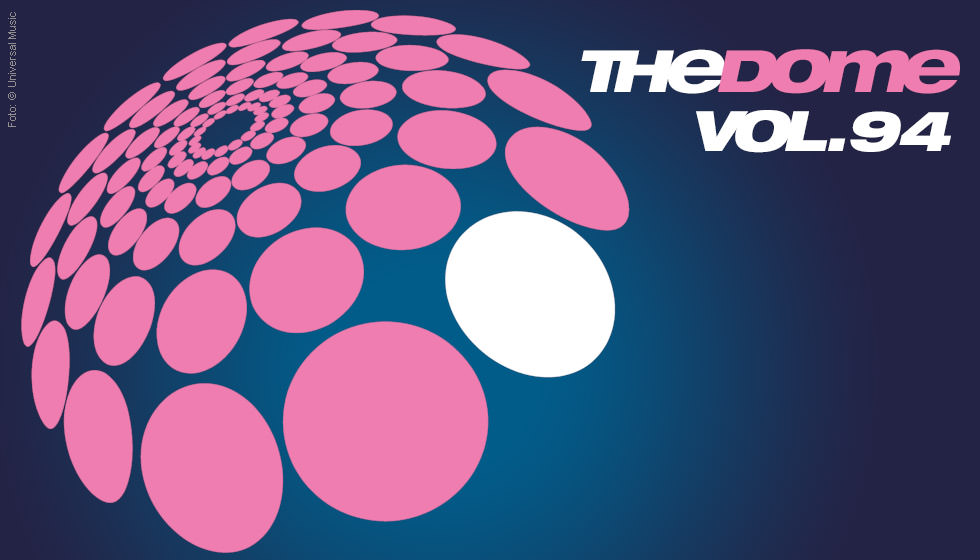 Angesagt
Lady Gaga, Jonas Brothers, Felix Jaehn, Rita Ora, Major Lazer, Michael Patrick Kelly, Adel Tawil, Selena Gomez – Sie alle gehören zu den angesagtesten Künstlern, die die Pop- und Rockwelt aktuell zu bieten hat.

Und genau aus diesem Grund sind sie auch auf der neuen »The Dome 94« vertreten – natürlich zusammen mit vielen weiteren Hochkarätern.

The Dome Vol. 94
2 CDs
CD (Compact Disc)
Herkömmliche CD, die mit allen CD-Playern und Computerlaufwerken, aber auch mit den meisten SACD- oder Multiplayern abspielbar ist.
Artikel am Lager
Portofrei innerhalb Deutschlands
The Dome Vol. 94
Bereit für die größte Chartparty der Megastars?

Im freshen Sommer-Look präsentiert The Dome Vol. 94 das Beste aus den Charts! Die Kirsche auf der Sahne: Auf dieser Ausgabe werden die spektakulärsten Premieren gefeiert!

Mit allen aktuellen Hits von Surf Mesa Feat. Emilee, Dua Lipa, Nico Santos & Topic, BENEE Feat. Gus Dapperton, OneRepublic und ACHTABAHN X Wincent Weiss.

Jeder Song ein Volltreffer und mit dieser Aufstellung an Superstars ist The Dome Vol. 94 der klare Titelfavorit auf Platz 1 in den Charts.
Disk 1 von 2
1 Surf Mesa: ILY (I love you baby)
2 Tom Gregory, Vize: Never Let Me Down
3 Dua Lipa: Physical
4 The Weeknd: Blinding Lights
5 Ava Max: Salt
6 Raye, Regard: Secrets
7 Topic, Nico Santos: Like I Love You
8 Benee: Supalonely
9 Doja Cat: Say So
10 Purple Disco Machine & Sophie And The Giants: Hypnotized
11 Lady Gaga: Stupid Love
12 Jonas Brothers: What A Man Gotta Do
13 Lost Frequencies, Zonderling & Kelvin Jones: Love To Go
14 Darius & Finlay: Clothes Off (Nanana)
15 David Puentez, Albert Neve: Superstar
16 Felix Jaehn feat. Gashi & Faangs: Sicko
17 The Pussycat Dolls: React
18 Mabel: Boyfriend
19 Tones and I: Never Seen The Rain
20 Rita Ora: How To Be Lonely
21 Major Lazer feat. Marcus Mumford: Lay Your Head On Me
22 Surfaces: Sunday Best
23 Powfu feat. Beabadoobee: Death bed (coffee for your head)
24 Clueso: Tanzen
Disk 2 von 2
1 Mark Forster: Übermorgen
2 Lea: Treppenhaus
3 Aloe Blacc: I Do
4 Zoe Wees: Control
5 Michael Patrick Kelly: Beautiful Madness
6 Onerepublic: Didn't I
7 Dagny: Somebody
8 Jack Johnson, Milky Chance: Don't Let Me Down
9 Sam Smith & Demi Lovato: I'm Ready
10 Malik Harris: Crawling
11 Adel Tawil: 1000 gute Gründe (Radio Edit)
12 Achtabahn & Wincent Weiss: So Gut
13 Michael Schulte: Keep Me Up
14 Giant Rooks: Watershed
15 Annenmaykantereit: Ausgehen
16 Max Giesinger: Nie stärker als jetzt
17 Céline: Tränen aus Kajal
18 Kayef: Ich würd' lügen
19 Shirin David: 90-60-111
20 Loredana, Capital Bra: Nicht verdient
21 Selena Gomez: Boyfriend
22 Justin Bieber feat.Quavo: Intentions
23 Kygo, Zara Larsson & Tyga: Like It Is
24 Vicetone & Tony Igy: Astronomia