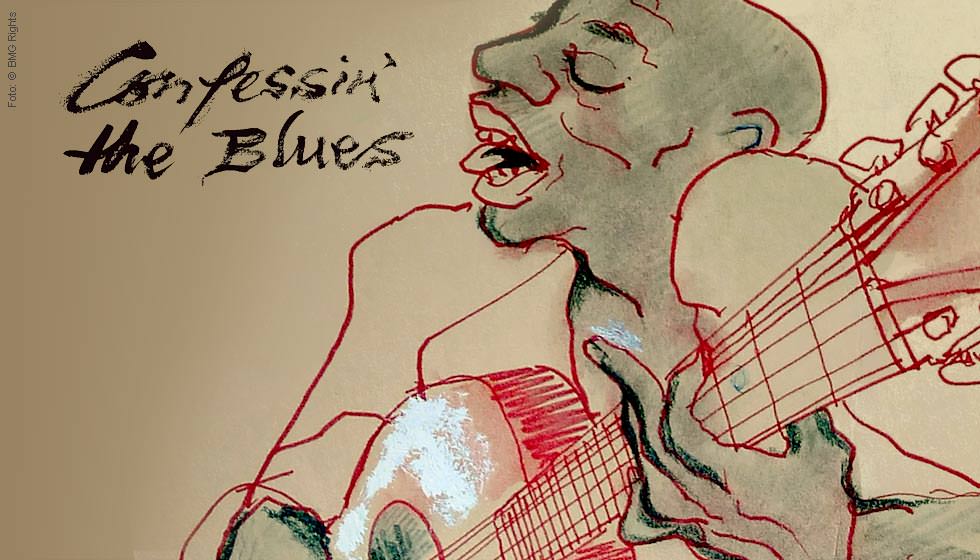 Eine besondere Beziehung
Die Rolling Stones und der Blues pflegen seit jeher eine besondere Beziehung. Wer wäre also wohl besser dafür geeignet, einen Blues-Sampler zusammenzustellen, als die britischen Rocklegenden.

Genau aus diesem Grund gibt es 2018 den Sampler »Confessin' The Blues«.

Die randvolle Compilation versammelt Lieblingssongs und -künstler, Highlights, Favoriten und einige der größten Bluesmusiker aller Zeiten auf einem Album. Das Tracklisting spricht Bände.
Confessin' The Blues
2 CDs
CD (Compact Disc)
Herkömmliche CD, die mit allen CD-Playern und Computerlaufwerken, aber auch mit den meisten SACD- oder Multiplayern abspielbar ist.
umgehend lieferbar, Bestand beim Lieferanten vorhanden
Label: BMG Rights
Bestellnummer:

8735663

Erscheinungstermin: 9.11.2018
*** Digipack
Die Rolling Stones und der Blues
»If you don't know the blues... there's no point in picking up the guitar and playing rock and roll or any other form of popular music.« (Keith Richards)

Sie sind nicht nur die größte Band der Welt: die Rolling Stones sind ebenso die größten Champions des Blues. Wer könnte daher besser eine derartige Compilation in Zusammenarbeit mit BMG und Universal kuratieren, als die Rolling Stones, deren Musik in ihrer ganzen Karriere immer wieder vom Blues inspiriert wurde?

Die Zusammenstellung »Confessin' The Blues« versammelt die größten Blues-Musiker und bietet einen perfekten Überblick über das Genre. Die Titellisten der verschiedenen Formate wurden von The Rolling Stones ausgewählt – in Zusammenarbeit mit BMG und Universal. BMG wird »Confessin' The Blues« veröffentlichen.

The Rolling Stones waren schon vor dem Start ihrer großen Karriere Anhänger und Unterstützer des Blues – und sind es bis heute. Auf ihrem aktuellen Studioalbum »Blue & Lonesome« interpretieren sie Blues-Klassiker von denen viele im Original auch auf »Confessin' The Blues« zu finden sind. Mick Jagger war bereits in jungen Jahren Fan des Blues: »Das erste Muddy Waters Album, das wirklich populär war, war ›Muddy Waters At Newport‹, das erste Album das ich jemals gekauft habe.«

10% der Nettoeinnahmen von BMG* aus dem Verkauf dieses Albums, mindestens jedoch £0.65 (2CD) / £1.25 (2LP) / £3.00 (Bookpack) Britische Pfund pro Album, werden an die Willie Dixon's Blues Heaven Foundation gespendet, die als gemeinnützige Organisation gemäß 501(c) (3) USC in den USA registriert ist.

Jacqueline Dixon, President/CEO of The Blues Foundation, sagt: »Wir sind extrem geehrt und dankbar, dass die Willie Dixon's Blues Heaven Foundation in solch ein erstaunliches Projekt integriert wurde. Es bedeutet so viel, dass der Traum meines Vaters, eine Organisation zu gründen, die den Blues für zukünftige Generationen fördert, bewahrt und von Künstlern unterstützt wird, die so viel erreicht haben.«

»Confessin' The Blues« beinhaltet Titel der größten Blues Pioniere, darunter Howlin' Wolf, John Lee Hooker, Elmore James, Muddy Waters, Chuck Berry, Big Bill Broonzy und Robert Johnson. Diese Künstler hatten einen nachhaltigen Einfluss auf das Entstehen der Rolling Stones, sei es der Einfluss auf Keiths Gitarren-Licks oder Micks Gesang und Texte. Dazu erklärt Ronnie Wood: »Das war wie Mick und Keith sich annäherten, im Zug auf der Rückfahrt vom College. Sie tauschten sich über ihre Plattensammlung aus und es war: `hey, Du hast Muddy Waters. Du musst ein guter Typ sein, lasse uns eine Band zusammenstellen.«

»Confessin' The Blues« wird als 2 CD-Set, 2x2 Vinyl LP-Sets und als 5x10" Vinyl Book (Nachbildungen der original 78RPM Veröffentlichungen) erscheinen. Alle Versionen beinhalten Liner Notes des Musikjournalisten Colin Larkin. Das Buchformat bietet zudem sogenannte bewegliche Kunstkartendrucke von dem Blues Illustrator Christoph Mueller. Das Album Artwork entwarf Stones Gitarrist Ronnie Wood, der durch sein Gemälde eines Bluesmusikers seine eigene persönliche Note zu dem Projekt beitrug.

»Confessin' The Blues« ist eine »real musical education«, von denen die das Genre bestens kennen, von der größten lebenden Band des Planeten: The Rolling Stones.


Rezensionen
»Freilich fehlen auch nicht die Nummern, die über ihre Adaptionen größeren Hörerkreisen bekannt wurden, etwa ›Little Red Rooster‹ (Howlin' Wolf), ›Love In Vain Blues‹ (Robert Johnson), ›You Gotta Move‹ (Mississippi Fred McDowell) und ›The Prodigal Son‹ (Reverend Robert Wilkins).« (Good Times, Dezember 2018 / Januar 2019)
Disk 1 von 2
1 Muddy Waters: Rollin' Stone
2 Howlin' Wolf: Little Red Rooster
3 John Lee Hooker: Boogie Chillen
4 Little Walter: I Hate To See You Go
5 Chuck Berry: Little Queenie
6 Bo Diddley: You Can't Judge A Book By Its Cover
7 Eddie Taylor: Ride 'Em On Down
8 Slim Harpo: I'm A King Bee
9 Magic Sam: All Your Love
10 Elmore James w/ Sonny Boy Williamson II: Dust My Broom
11 Little Walter: Just Your Fool
12 Muddy Waters: I Want To Be Loved
13 Big Bill Broonzy: Key To The Highway
14 Robert Johnson: Love In Vain Blues
15 Mississippi Fred McDowell: You Gotta Move
16 Jimmy Reed: Bright Lights, Big City
17 Big Maceo: Worried Life Blues
18 Little Johnny Taylor: Everybody Knows About My Good Thing (Part 1)
19 Howlin' Wolf: Commit A Crime
20 Otis Rush: I Can't Quit You Baby
21 Jay McShann & Walter Brown: Confessin' The Blues
Disk 2 von 2
1 Howlin' Wolf: Just Like I Treat You
2 Little Walter: I Got To Go
3 Chuck Berry: Carol
4 Bo Diddley: Mona
5 Muddy Waters: I Just Want To Make Love To You
6 Elmore James & The Broom Dusters: Blues Before Sunrise
7 Eddie Taylor: Bad Boy
8 Boy Blue: Boogie Children
9 Jimmy Reed: Little Rain
10 Robert Johnson: Stop Breakin' Down Blues
11 Reverend Robert Wilkins: The Prodigal Son
12 Lightnin' Slim: Hoodoo Blues
13 Billy Boy Arnold: Don't Stay Out All Night
14 Bo Diddley: Crawdad
15 Dale Hawkins: Susie Q
16 Amos Milburn: Down The Road Apiece
17 Howlin' Wolf: Little Baby
18 Little Walter: Blue And Lonesome
19 B.B. King: Rock Me Baby
20 Buddy Guy: Damn Right, I've Got The Blues
21 Muddy Waters: Mannish Boy