BossHoss: The Very Best Of Greatest Hits (2005 - 2017) (Super Deluxe Edition)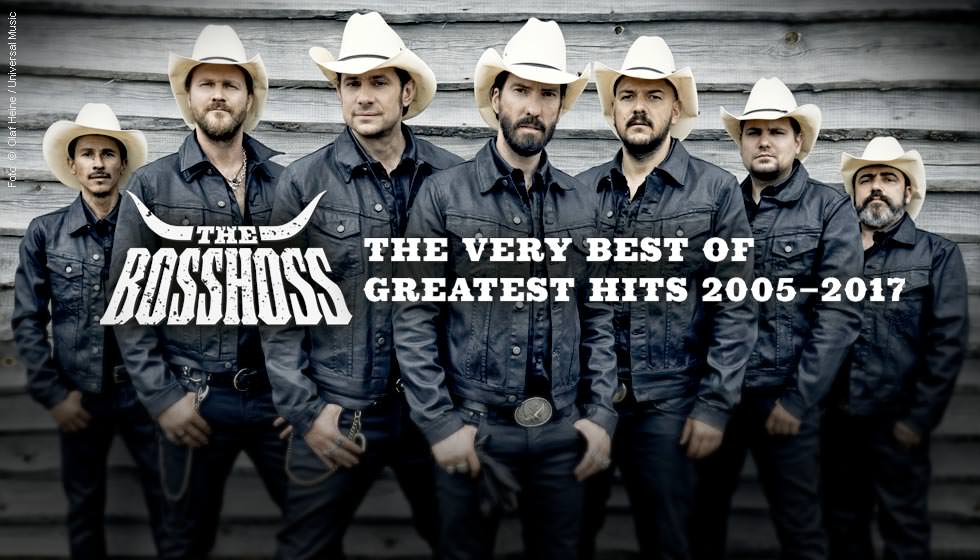 Die Besten der Besten
Rund 13 Jahre ist es her, dass Sascha Vollmer, Michael Frick und Alec Völkel in Berlin die Band The BossHoss gründeten. Im Laufe der Zeit wuchs die Band zum Septett und veröffentlichte sage und schreibe sieben Studioalben, von denen allein sechs in den Top 10 landeten.

2017 lassen sie ihre bisherigen Erfolge noch einmal Revue passieren, und zwar mit einem Best-of-Album. Hier ist »The Very Best Of Greatest Hits (2005–2017)«.
The Very Best Of Greatest Hits (2005 - 2017) (Super Deluxe Edition)
2 CDs, 1 Merchandise
CD (Compact Disc)
Herkömmliche CD, die mit allen CD-Playern und Computerlaufwerken, aber auch mit den meisten SACD- oder Multiplayern abspielbar ist.
Nur noch 1 Stück am Lager. Danach versandfertig innerhalb einer Woche (soweit verfügbar beim Lieferanten)
Label: Island
Bestellnummer:

6757408

Erscheinungstermin: 12.5.2017
Weitere Ausgaben von The Very Best Of Greatest Hits
Der große Karriererückblick von The BossHoss
Nachdem The BossHoss vor gut zwei Jahren mit »Dos Bros« ihr erstes Nummer-eins-Album veröffentlichten, werfen die Berliner Country-Rocker 2017 einen umfassenden Blick auf ihr bisheriges Schaffen.
Der Titel »The Very Best Of Greatest Hits (2005–2017)« sagt eigentlich schon alles: Hier warten die größten Hits der Band um Alec Völkel und Sascha Vollmer, und zwar aus ihrer gesamten Karriere.
Mit dabei sind Coverversionen und eigene Songs, darunter Klassiker wie »Hey Ya!«, »Don't Gimme That«, »Do It«, »Jolene« und viele mehr. Das gesamte Tracklisting finden Sie im Folgenden.
Neben der Standard-CD und einer Doppel-LP-Version gibt es »The Very Best Of Greatest Hits (2005–2017)« außerdem als umfangreiche Super-Deluxe-Edition. Diese enthält neben dem Album auf CD eine Bonusdisc mit weiteren Songs und vielen spannenden Gästen wie Jesse Hughes (Eagles of Death Metal), Rea Garvey, Nena und Andreas Gabalier und viele mehr. Außerdem warten eine Trucker-Cap und ein handsigniertes Autogrammkartenset.
The BossHoss präsentieren die Hits der Hits, das Beste vom Besten aus ihrem umfangreichen Œuvre: auf ihrem neuen Best-of-Album »The Very Best Of Greatest Hits (2005–2017)«.
Die Super-Deluxe-Edition im Überblick:
Das neue Best-of-Album auf CD
Bonus-CD mit weiteren Songs und vielen spannenden Gästen
Trucker-Cap
Handsigniertes Autogrammkartenset
Disk 1 von 3
1 Jolene (Single Version)
2 Don't Gimme That (Album Version)
3 Hey Ya (Single Mix)
4 Wait for me
5 Dos Bros (Single Version)
6 Last Day (Album Version)
7 Live it up (Single Mix)
8 Liberty of Action
9 Mary Marry me (Single Mix 2017)
10 Yes or No
11 Break Free
12 Shake & Shout
13 I Like it like That (Single Mix)
14 Do it (Single Mix)
15 Stallion Battalion
16 Rodeo Radio
17 I Say a little Prayer
18 Sex on legs
19 Lady JD
20 Bullpower
21 A Cowboys Work is never done
22 Bonus Track: Sing My Personal Song
Disk 2 von 3
1 Still Crazy 'Bout Elvis (feat. Patricia Vonne)
2 Money (That's What I Want) (feat. Jesse "The Devil" Hughes)
3 Run Run Devil (feat. Rea Garvey)
4 Ca Plane Pour Moi (feat. Plastic Bertrand)
5 Boom Boom (feat. The Graveltones)
6 Quick Joey Small (feat. Cobra Killer)
7 Jolene (feat. The Common Linnets) (Album Version)
8 Geronimo (feat. Auro Dione)
9 Walking Away (feat. Rea Garvey)
10 What I Did For Love (feat Nena)
11 What If (feat Andreas Gabalier)
Disk 3 von 3